September 8, 2020 - 11:04am
Ila Elizabeth Comeau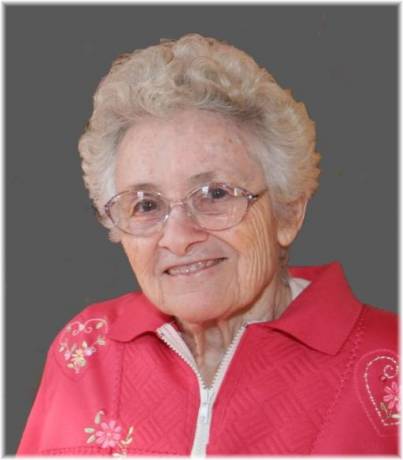 Ila Elizabeth Comeau October 10, 1924 - September 7, 2020
Our dear mother Ila Elizabeth Comeau passed away peacefully at the age of 96 on September 7, 2020 at the NYS Veterans's Home in Batavia, New York where she received loving care for the past five years.  Ila was a long-time resident of Elm Street in Rouses Point NY. She was noted for her delicious pies and cookies, and her gardens, sewing and wonderful massages. Ila was everyone's best friend and neighbor and an adopted mother and grandmother to many– always there to lend a helping hand.  She was transplanted from Garland, North Carolina to Rouses Point by her husband Roland who she met while working in the Army Commissary at Fort Bragg. 
Ila was predeceased by her loving husband of 65 years Roland, her brothers George, Harvey, Joseph, Paul, Luke  and John Petty and sister Mary Ross.  She is also survived by one sister-in-law Yvonne Petty and several nieces and nephews.  
Ila is survived by six children and 13 grandchildren, Joseph (Molly) Comeau and their children Rachael Comeau, Vaughn Comeau, Andrew Comeau;  Paul (Victoria) Comeau and their children John Comeau, Kristina Comeau Weismore, and Steven  Comeau; Margaret (Gary) Boyea and children Mike Boyea and Pam Cocozza, Mary (Zepher) Raymond and their children Eric and Jason Raymond, Marian (Bryan) Tetreault and their children Holly Sega and Jill Mayorga and Theresa (Richard) Simpson and their son Michael.  Also surviving are twenty-three great-grandchildren who brought great joy to her in the later years of her life.   
Ila's life was full.  After her children grew up, she worked for many years and retired from Ayerst Laboratories where coworkers often enjoyed her fresh baked goods.  She also worked previously at Cedar Hedge Nursing Home providing compassionate care to the residents. She was devoted to her faith and involved in numerous activities at St. Patrick's Church (many of which involved pies which Roland gladly delivered).
Calling hours will be held from 10-11 a.m. on Friday, September 11, 2020 at St. Patrick's Church in Rouses Point, NY followed by a Mass of Christian Burial and a graveside service. 
Flowers are gratefully declined. Donations may be made to St. Patrick's Church, 138 Lake Street, Rouses Point, New York 12979.  For more information please call (585) 343-8260 or to leave a message of condolence visit www.gilmartinfuneralhome.com. Arrangements completed by Gilmartin Funeral Home & Cremation Company, Inc. 329-333 West Main Street, Batavia, New York 14020.