September 12, 2020 - 10:32pm
Mrs. Marjorie "Pet" Norton German
Marjorie "Pet" Norton German 80, was born on February 9, 1940 to the late Ellsworth and Frances Boldt Norton in Elba NY died Saturday September 12, 2020.  Over the years Marge worked for many different places including Sylvania, Dohler Jarvis, Dunkin Donuts, Big N and finally 20 years at the Batavia Kmart where she retired from in 1997.  Marge's favorite thing was spending time in the kitchen cooking and baking for her family including making sure her babies "her dogs" over the years got fed. She also enjoyed traveling with her husband and going to casino's.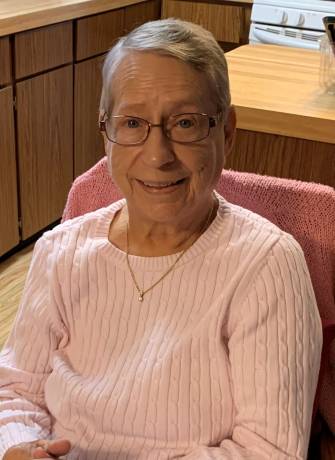 Marge is survived by her beloved husband David of over 57 years, whom she married July 20, 1963; her sons, Scott D. German of Batavia, Jeffery (Julie Amato) German and her daughter Holleyann Amato of Stafford and Michael C. German of Batavia; her dog Buster and grand dogs Zach, Bailey and Jake.  She is also survived by her siblings Eugene "Jake" Boldt of Elba, Robert (Judy) Norton of Cumming GA, Beverly "Sis" Reamer of Maple Hill NC, Ellsworth "Chubby" (Carol) Norton Jr. of Elba, Joyce "Billie" (Ronald) Sixt of Punta Gorda FL and Linda Richenberg of Brockport, her sisters in law Janet Brinkman of Batavia and Maureen German of TN and many nephews and nieces. 
Marge was predeceased by her brother Charlie Norton, her sister Susan Cole, her sisters in law Ellie Boldt, Josie Gualtieri Boldt, brothers in law David Reamer, John Richenberg, Wayne Cole, James German and Donald Brinkman and her favorite dogs Poochie, Beaver, Teddy and Babe.
Per Marge's wishes there will be no prior visitation or services at this time. Memorials in her name may be directed to Volunteers for Animals, P.O. Box 1621, Batavia, New York 14021. To leave a condolence, share a memory or light a candle in Marge's memory, please visit www.bataviafuneralhomes.com.
Arrangements have been entrusted to the H.E. Turner & Co. Funeral Home, 403 East Main Street, Batavia.