September 18, 2020 - 10:00am
Bayne Freeman Johnson
posted by
LaVern Falcone
.
Silver Springs / Castile, N.Y. ~ Bayne Freeman Johnson,  age 76, of Silver Lake, passed away peacefully on Friday, September 11, 2020.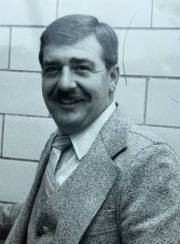 Born on October 26, 1943 in Warsaw, NY, he was the son of the late Wilburt and Jessie Kennedy Johnson Gentner.
     He will be remembered as a loving and devoted husband, father, grandfather, great grandfather, dear friend, and role model to many.  Well known as a master teacher and coach, he also enjoyed hunting, fishing, gardening, wine making and boating on Silver Lake.
     Bayne's passion for coaching and his accomplishments as a coach made him well known throughout Western New York. As a varsity football coach,he received both awards and recognition for teams he coached at Notre Dame of Batavia, Oakfield-Alabama and Pittsford-Sutherland Central Schools and the University of Rochester where he served as an offensive line coach.
     Besides coaching football, Bayne also enjoyed great success as a basketball coach.  He was the Junior Varsity and Assistant Varsity Coach at Notre Dame the year the team won the Manhattan Cup Championship at the old War Memorial Auditorium in Buffalo, NY in 1969. He then followed in roles as the varsity boys' basketball coach at Oakfield-Alabama and finally as the varsity girls' coach at Pittsford Sutherland, where he also took teams from both schools to sectional playoffs.
     He was inducted into the Section V Football Hall of Fame in 2008 for his coaching accomplishment in both sports.  His 1973 Notre Dame High School football team, which was the Bishop Smith League Co-Champion, was also inducted into that school's Hall of Fame.
     Bayne is survived by his loving wife of 55 years, Carol Sobolewski Johnson; son, Bayne Johnson Jr.; grandchildren, Deliah Ribaudo-Johnson (Fiancé, Jerome Battle) and Dylan J. Johnson; great-grandchildren, Marina Ribaudo-Johnson and Bryson Battle; aunt, Leia Sherman; brother-in-law, Robert Moscicki; niece, Saundra Moscicki (partner, Carmen Stief), along with many cousins and dear friends.  He was predeceased by his sister-in-law, Lee Moscicki, and nephew, Bruce Moscicki.
     A Celebration of Bayne's Life will be held on Friday, October 2 from 12 ~ 3 P.M. at "The Chalet" of the East Hill Creamery, 346 S. Main Street, Perry, N.Y.  (Face masks are required and social distancing restrictions apply)
     In Lieu of flowers, memorial contributions may be made in Bayne's name to the Alzheimer's Association or a charity of one's choice.
     Your memories and condolences may be shared with Bayne's family at www.falconefuneralhome.com.
     Mr. Johnson and his family are being cared for by the Falcone Family Funeral & Cremation Service Inc. in LeRoy.  585-768-2400