September 18, 2020 - 6:14pm
Shirley M. Winters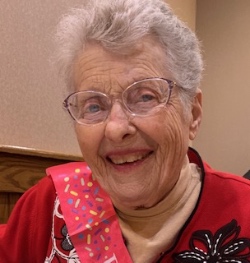 Shirley M. Winters (nee Fitzgerald), 89, of Batavia, died Thursday, Sept. 17, 2020 at her home. 
Mrs. Winters was born Feb. 22, 1931, in Buffalo, NY, daughter of the late Marguerite Fitzgerald McDivitt and the late John J. Fitzgerald.
Shirley was a member of the St. Maximillian Kolbe Catholic Church and a retired school bus driver for the Batavia City School District and Arc. She was active in local politics, which led to serving as Batavia Town Clerk and Batavia Town Supervisor.
She is predeceased by her husband Wesley W. Winters, whom she was married to for 52 years until his death; her brother John Fitzgerald, and her sister Kathleen Sobczak.
Surviving are: her children Beverly (Barry) McCabe, of East Pembroke, Diane Winters, of Batavia, Wesley A. (Ann) Winters, of Batavia, Wendy Hake, of Whitesboro, and Pamela (David) Zielinski, of Amsterdam; 10 grandchildren and 12 great-grandchildren. Shirley was the sister of Agnes (Donald) Nelson, of Corfu, Jane (Ray) Ehrmentraut, of Churchville, Mike (Debbie) McDivitt, of Hilton, and DeEtta (Frank) Silvestro, of Clarence. She is also survived by many nieces and nephews.
Family and friends may call Wednesday, Sept. 23, from 11 a.m. to 1 p.m. at the St. Maximilian Kolbe Church Hall, 8656 Church St., East Pembroke, NY. A Mass of Christian Burial will follow at 1 p.m. A face covering will be mandatory as well as safe, social distancing. Burial will be in Hillside Cemetery, East Pembroke. 
In lieu of flowers, memorials may be made to St. Maximilian Kolbe Church 18 W. Main St., Corfu, NY 14036 or the Batavia branch of The Salvation Army, 529 E. Main St., Batavia NY. 
Arrangements were made by C. B. Beach & Son Mortuary Inc., 4 E. Main St., Corfu.