September 28, 2020 - 12:59pm
Madison "Maddie" Masters
posted by
LaVern Falcone
.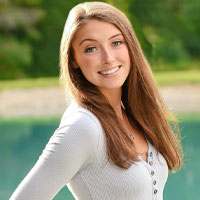 Madison "Maddie" Masters died unexpectedly on September 25th in LeRoy, NY at the age of 17.
     Madison is survived by her parents, Kate Cross of LeRoy, and Chris (Christy) Masters of Lima; siblings, Brooklyn, Breck, Brinnley, & Bristol; Grandparents, Debbie & Tom McCullough, Doug & Sharon Cross, John & Candy Masters; Great-Grandmother, Margaret King; Great-Grandfather, John Flint; many Aunts, Uncles, Cousins, special friend, Joey Volpe and many dear friends. 
     Madison was born on April 11, 2003 in Rochester at Highland Hospital.  She attended LeRoy High School and was in her senior year.  She loved working at Batavia's Original in Batavia. She played volleyball and softball for the LeRoy Knights and was a dancer at Fusion Dance Studios since when she was two years old. 
     She was a kind, caring and beautiful young woman, with a loving heart, taken too soon.  She was loved by so many family and friends and will be missed always and forever.
     Visitation will be held on Wednesday, September 30th from 2 ~ 8 P.M. at Falcone Family Funeral & Cremation Service Inc., 8700 Lake Road (Rt. 19), LeRoy, NY 14482. All are welcome to attend and celebrate Madison's life. (Funeral home occupancy will be limited to 33% capacity during the course of visitation and face masks are required.)  A private family funeral is scheduled.  The service will begin live streaming, Wednesday, September 30th at Noon;  follow this link: http://bit.ly/MaddieFuneral
     In lieu of flowers, contributions in memory of Maddie may be made to:  https://www.racf.org/fund/madison-grace-fund/
     Your memories and condolences may be shared with Maddie's family at www.falconefuneralhome.com.