October 19, 2020 - 7:42am
Charles M. Steffenilla
posted by
LaVern Falcone
.
Lockport, N.Y. ~ Charles M. Steffenilla, age 74, formerly of LeRoy, passed away Friday afternoon (Oct. 16, 2020) at McAuley Residence in Kenmore, N.Y.
     He was born August 14, 1946 in Batavia, a son of the late Michael and Mary Stellato Steffenilla.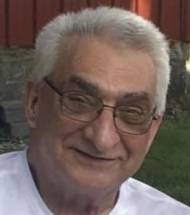 Charles will be remembered as a loving companion, father, grandfather and brother, who always had a joke for his family and friends.  He enjoyed reading, watching John Wayne western movies and coin collecting.  He was also known to be a history buff and although he was not a veteran, he studied and read everything about the Viet Nam Conflict and became very supportive of the veterans who served.
     He will be sadly missed by his loving companion of 17 years, Kathryn Millard; his children, Tod Steffenilla (fiancé, Brittany Hoyle), Tobi (Mark) Simeone; daughter-in-law, Lori Steffenilla; Sean Millard and Geoffrey (Jack) Millard; grandchildren, Joseph Simeone, Jacob Steffenilla, Kassidy Steffenilla, Lindsey Steffenilla, Grace Steffenilla, Zoie Steffenilla, Zachary Simeone and Arianna Millard; siblings, Angelo Steffenilla, Samuel (Shelly) Steffenilla, Robert (Katie) Steffenilla, Eileen (Dean) Fischer, Agnes (Dan) Snyder, Annette Showler and Joan (Rick) VanKuren, along with many nieces, nephews and dear friends.
     In addition to his parents, he was predeceased by his son, Thomas Steffenilla, sister-in-law, Nancy Steffenilla and brother-in-law, Ted Showler.
     Family and friends may call on Thursday, Oct. 22 from 3 ~ 7 P.M. at the Falcone Family Funeral & Cremation Service Inc., 8700 Lake St. Rd. (Rt. 19), LeRoy, N.Y. (Funeral home occupancy will be limited to 33% capacity during the course of visitation and face masks will be required.)  His graveside service will be held on Friday, October 23 at 10 AM in Machpelah Cemetery.
     In lieu of flowers, memorials are suggested to WNY Heroes, Inc., 8205 Main St., Suite 1,
Williamsville, NY 14221  (wnyheroes.org/get-involved/donate/) or to any charity that supports our local veterans.
     Your memories and condolences may be shared with Mr. Steffenilla's family at www.falconefuneralhome.com.
     Mr. Steffenilla and his family are being cared for by the Falcone Family Funeral & Cremation Service Inc. in LeRoy.  585-768-2400