October 27, 2020 - 11:58am
​Brenda Lantz (Bartholomew)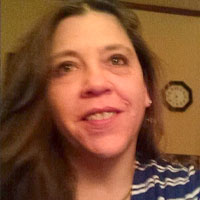 Brenda Lantz, (Bartholomew), 57 of Gainesville passed away after a long battle with cancer on Thursday October 22, 2020. Brenda was born November 21, 1963 in Batavia, NY on November 21, 1963, to the late Frank and Josephine Bartholomew.
Brenda is survived by her daughter; Jennifer Beedham, brothers; Dennis Bartholomew and Frank Bartholomew Jr., and sister, Gloria Hair.  Several nieces, nephews other relatives and friends.
Graveside Services will be held on Tuesday October 27, 2020 at Alta Vista Cemetery, Dr. Bill Coates officiating. The family will receive from 11-12 p.m. at Little & Davenport Funeral Home. Those wishing to send online condolences to the family may do so at littledavenport.com
Little & Davenport Funeral Home and Crematory, 355 Dawsonville Highway, SW, Gainesville, Georgia 30501 is in charge of arrangements.
To send flowers to the family or plant a tree in memory of Brenda Lantz, please click here.