October 30, 2020 - 1:23pm
David John Saleh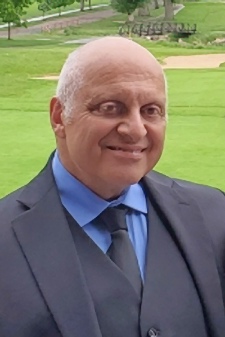 David John Saleh passed into new life Oct. 29, 2020, after cancer. David leaves a family and a community that will miss his love, dedication, generosity and warmth. David's dedication to his large, Saleh/Abdella Lebanese family and community was the hallmark of his 67-year life. One of the lessons that David taught throughout his life was that one's moral and spiritual strength can be shared to help others become stronger themselves.
He began his formal education at St. Joseph's Collegiate Institute, where he graduated with honors. Since that wasn't enough, he also graduated with honors from The University at Buffalo. His string of honors recognition continued still, through Law School at UB, where he was also the Editor of the Law Review.
After moving to Corfu, NY to raise a family and practice law, David became a leading member and mentor of the community. David acted as a leader in the legal community of Genesee County in all aspects of law. In addition to serving as president of the Genesee County Bar, he was a delegate to State Judicial Nominating Committee for over 35 years. For the past year, David served as a part time City Court Judge in Batavia, NY. In addition to his legal work David was an integral part of the Enlighten family, serving as General Counsel and Vice President of New Business Ventures for over 17 years.
David supported his community in a variety of important ways. He was a Eucharistic Minister, lector and parish council at his local Catholic church; as well as a visiting minister and Chaplin of the Erie County Correctional Facility; he was a 40-year member of the Lions Club, serving three terms as president; he served as a volunteer firefighter in Corfu for 44 years and assumed several leadership positions there; he coached the Pembroke High School Mock Trial Team; was a longtime member of the local Grange; served as president and director of the Corfu Free Library; was a past director and treasurer of the St. Jerome Hospital Foundation; and served his alma mater as the President of UB Alumni Association.
By donating his body to the University of Buffalo Medical School, David found an important way to give back even in death.
As a lifelong Western New Yorker, David was also a lifelong fan of the Yankees and the Bills, learning from both victory and defeat, respectively. All who knew David knew that he had an in-depth analysis of what was going right and how the general managers could make improvements. If only they had listened … four Super Bowls wins would be ours … and at least three more World Series trophies.
David was predeceased by his parents Donald and Joan Saleh of Buffalo, NY.
David is survived by: his wife of 44 years Elizabeth (Liz) Abdella Saleh; his four children Anthony (Kate Sixt), Amy (Nick Peterson), Andrew (Amanda), Anne (Thomas Lisle); his grandchildren, Alexandria, Augustus, Elias, Eblena, Jude, Jonah and Janette; 11 brothers and sisters, Thomas, Dolores, Donald, George, Barbara, Mary, Charles, Margaret, Gloria, Edward and James; over 90 nieces, nephews, great nieces and nephews; and brothers and sisters-in-law.
This large extended family grieves together and mourns the loss of a family member who was always there to help them in any way.
A Celebration of Life will be planned at a date to be determined where the entire community will be welcomed, once large gatherings are permitted.
David, we LOVE YOU as a wonderful husband, father, Jido (Arabic word for grandfather), brother, uncle, cousin, nephew and friend. You will be in our lives forever.
In lieu of flowers, please send memorial donations to the Batavia Lions Club Foundation (P.O. Box 456 Batavia, NY 14020), Corfu Fire Department (116 E. Main St., Corfu, NY 14624), and/or St. Jude's Hospital (David J. Saleh Memorial Fund).