November 30, 2020 - 9:15pm
Arlette Sherwood
posted by
Ronald Konieczny
.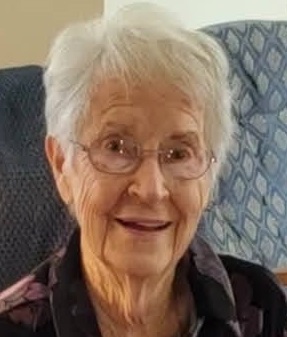 Arlette Sherwood, age 100, of the Village of Elba, peacefully entered her eternal home in heaven on Sunday, November 29, 2020 surrounded by her family in her home.
Born on October 1, 1920 in Oxford NY, she was the daughter of the late Merritt and Bernice (Tracy) Stone. Survivors include her five children, Judith (Phil) Naas, Kathleen Rockwell, Stan (Karen) Sherwood, David (Jill) Sherwood, and Tracy (Michael) Byrnes; 15 grandchildren, 26 great grandchildren, and 10 great-great grandchildren.

She married her Oxford Academy high school sweetheart, the late Stan Sherwood Sr., and then moved to Elba, NY, in 1946. She worked in the office at Elba Central School doing payroll. Then, after working a short time for the ASCS office, (Agricultural Stabilization and Conservation Service), a farm service agency, she retired at the age of 62 from the VA hospital as a medical secretary. 
She and her husband, Stan, moved to their summer home on Otisco Lake in Marietta NY where her husband passed away in 1987. The children and grandchildren enjoyed many years visiting her at the lake. Those times will always be cherished memories having campfires and roasting marshmallows, playing the game chicken foot, fishing, boating, skiing, tubing, swimming, flashlight tag, catching fireflies at night and sipping coffee on the deck. They were happy memories that will be treasured!

Arlette was an active member of the Amber Congregational Church, serving the Lord in the church in many ministries. She loved her church family and they loved her.
Arlette moved back to Elba to live closer to her children in 2006 where she became known as the "bag" lady. She had learned to crochet tote bags out of plastic grocery bags. She made over 300 totes, using them as gifts or selling them nonprofit, donating the money to the church and other ministries.
Arlette has passed down a legacy of what a mother and grandmother should look like. A woman after God's heart and a desire to live according to His Word, the Bible.
She has blessed her family, church family, and friends by the life that she has lived so well by her Christ like example. She will be sorely missed.
There will be a private family celebration of her life at her home. A special thank you to the nurses of hospice, Kim, Susan and Amber, your compassion and care were appreciated by the family as well as the homecare aides, Ginger and Samantha. Memorial donations may be made to Homecare and Hospice 29 Liberty Street, Batavia, NY 14020.
Expressions of sympathy may be shared with the family at: www.mcandrewfuneralhomes.net.
ARRANGEMENTS WERE ENTRUSTED TO THE J. LEONARD McANDREW FUNERAL HOME, LLC, 2 BOGUE AVE., BATAVIA, NY 14020. RONALD KONIECZNY II, DIRECTOR.