December 7, 2020 - 8:55am
Mary Ann Kutter (nee Vohwinkel)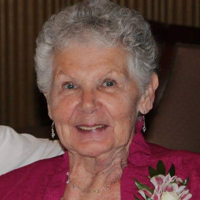 Mary Ann Kutter (nee Vohwinkel) passed away peacefully at the age of 88 on Saturday, December 5, 2020 at home in the presence of her husband and children after a brief illness with cancer. She was born on April 29, 1932 in Buffalo, New York to the late Henry and Margaret Vohwinkel and was a life-long resident of Western New York. Mary Ann graduated from Sacred Heart Academy in Amherst, NY. She was predeceased by two brothers and one sister. She is survived by her husband, Richard L., was a loving mother to six children, Joan Miner (late Joseph), Theresa (Dean) Russell, Richard W. (Faith), Robert (Lisa), Michael and Timothy (Jennifer), was blessed with nine grandchildren, Daniel, Ashley, Evan, Sara, Megan, Mara, Eric, Noah, Dianna and five great grandchildren. 

Mary Ann was a bookkeeper at Kutter's Cheese Factory for many years and was a member of the Pembroke School Board in the early 70's. She was also a volunteer at Crossroads House Hospice program and St. Luke's City Mission for several years. 

One of the hobbies Mary Ann enjoyed was crocheting, making many afgans and doilies for family and friends in addition to making hats and scarfs for various non-profit organizations. She also enjoyed gardening and doing daily Wonder Word puzzles. She was an avid Buffalo Bills football fan dating back to the early 1960's, she liked liked watching and attending games along with watching University of Notre Dame football. Traveling was another favorite activity and she visited such places as Italy, Ireland, Scotland, Germany, the Czech Republic and the Virgin Islands. As her children were growing up, she loved camping in many areas of the United States. Mary Ann had a beautiful singing voice and passed her love of music and theatre to her children. 

There are no prior calling hours. A mass of Christian Burial will be held at St. Maximilian Kolbe Church at the convenience of her family. She will be laid to rest at the St. Patrick's Cemetery in Crittenden, NY. Memorials can be made to St. Maximilian Kolbe Church, Crossroads House or Homecare & Hospice in Batavia, NY. Funeral arrangements by C.B. Beach & Son Mortuary, Inc.