December 7, 2020 - 12:17pm
Wayne D. Foster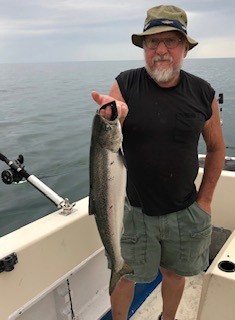 Wayne D. Foster ~ Age 76, of Elba, died at home in the comfort of his two loving daughters on December 6, 2020, after his long and courageous battle with cancer. Wayne was born in St. Albans, VT on April 29, 1944, a son of the late Frederick and Kathleen (Paxman) Foster.
Wayne's work on the family farm delayed his schooling until the age of seven, but he began his education in Montgomery, VT.  His family moved to New York in February 1956 where he first attended school in Caledonia and later graduated from LeRoy High School in 1964. He earned an Electrical Degree from DeVry Technical Institute in Illinois in 1966 and began working for the Space and Defense Center in Maryland until he was drafted by the U.S. Army in September 1966. Wayne battled beside his military brothers in the Armor Division in Vietnam where he proudly served his country from 1966-1968. Wayne received several military medals and decorations including the Good Conduct Medal and the Purple Heart. He was officially and honorably discharged from the U.S. Army in 1972. 
Wayne spent most of his life serving Genesee County, first working for the Sheriff's Department and in 2002, retiring from the Genesee County Highway Department. He was a longstanding supporter of the DAV. He was also a longtime member of the Olive Branch Masonic Lodge No. 39 in LeRoy, NY where he and his lodge brothers proudly supported the community with fundraisers and programs. Wayne cherished their unity, brotherhood, and friendship. In October 2018, he was honored for his many years of service with the lodge. 
Wayne valued family and friends and found time spent with them to be his most precious treasure.  He cared about others, enjoyed giving to and helping people, and reveled in turning a stranger into a friend.  Wayne liked to be outside and found comfort in nature. He enjoyed camping and joyfully and eagerly anticipated every fishing and hunting season. He appreciated the peace provided by simplicity, found comfort in watching wildlife and sunrises, in drinking freshly melted snow streaming from a mountainside, in listening to the birds' songs,  and in the calming sounds of soft, instrument music. He respected tradition and accomplished things the "old-fashioned" way, finding fulfillment in making something broken useful again and value in vintage items such as guns, clocks, classic cars, and in a variety of other antiques.  He liked to tinker in his garage, enjoyed logging for winter's wood fires, eating pancake and maple syrup breakfasts, telling funny one-liners and jokes, playing card games, dancing, and sharing a drink and a laugh with visitors. 
Wayne is survived by his daughters, Rhonda (Cary) Pangrazio of Alabama, NY and Rachel Kilner of Portsmouth, VA; siblings, sister Janice (late Larry) Green of LeRoy, NY and brother, Bryan (Paula) Foster of Joliet IL; grandchildren, Cassandra Pangrazio, Chase Pangrazio, Elias Kilner, and Olivia Kilner as well as eight nephews, three nieces, beloved cousins and other extended family, great-nieces and nephews, lodge and military brothers, dear friends, and neighbors. He is predeceased by his sister, Bonnie (Larry) Riffel.
Friends are invited to call on Sunday December 13, 2020 from 2:00-6:00PM at Gilmartin Funeral Home & Cremation Company, Inc. 329-333 West Main St., Batavia, NY 14020.  A Private Service will be held for the family. Wayne will be laid to rest in the Western New York National Cemetery.
Please note the Funeral Home will be operating at 33% capacity per state guidelines. New York State requires those in attendance to adhere to the social distancing guidelines and face coverings are mandatory. Thank you for your cooperation.
Flowers are gratefully declined. Memorials may be made to the Olive Branch Lodge 39 12 Bank St. Le Roy, NY 14482. To leave a message of condolence please visit www.gilmartinfuneralhome.com or for more information call (585) 343-8260. Arrangements completed by Gilmartin Funeral Home & Cremation Company, Inc. 329-333 West Main Street Batavia, New York 14020.