December 8, 2020 - 8:32am
David L. Graham
posted by
LaVern Falcone
.
LeRoy ~ David L. Graham, age 87, passed away peacefully on Thursday morning (December 3, 2020).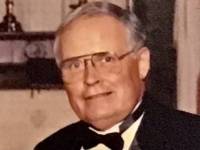 David was born on April 13, 1933 in Batavia, NY,  the son of John and Isabelle Graham.  He lived the first part of his life in Stafford, NY, which he always fondly remembered.  The rest of his life would be spent in LeRoy, NY.
     He will be dearly missed by his daugther, Sarah (Mark) Tomaszewski, grandchildren, Conor (Travis Bleier) Tomaszewski and Krysta Graham Tomaszewski.  He is also survived by his brother, Jack (Marty) Graham and several nieces, nephews and his cherished "grand-dogs", Harley and Oakley.
     He was a veteran of the Korean War.  The story is that when he left to start his army career, his sister, Nancy would not say goodbye to him.  She was afraid that he wouldn't return.  It shows the bond between the two and his mom because he was called "home" on the same day (Dec. 3) as his sister and mother.
     I remember hearing stories about a red convertible that David and Jack would ride past the Ladd house in LeRoy to catch my mom's attention.  I am so glad it worked and they were happily married for 55 years.
     He is predeceased by his wife, Lynette "Scottie" Graham, his parents, John and Isabelle Graham, sister, Nancy Graham Grayson Heath, sister-in-law and brother-in-law, Helen and Richard Ladd.
     He was a fireman in both Stafford and LeRoy, and was very proud of that.  His first job after coming home from Korea would be selling insurance.  After that, he found his love of selling real estate.  This was where he met so many people in the area.  Wherever we went, he would make a connection with people he spoke with.  Later in life, he purchased The Graham's Edson House B & B.  He loved meeting and helping people on their travels.  So many international travelers would get off a plane in NYC and hop on the Thruway and think they would see the country in a week.  He helped these people realize how big the United States is and they would have to pick and choose what they could see.
     The past nine months were trying due to COVID, but his family feels very blessed for the ten days we were able to spend with him at the end of his life.  We would like to give a Big Thank You to the C Wing staff at the Village Green Nursing home and the Activities Department for all that they do every day to make sure our loved ones are safe and feel loved.  I would also like to say Thank You to the wonderful group of people that helped him to stay in his apartment.  You gave us a wonderful year.
     So many people have such fond memories of my dad being in his yard at the B & B, that it only seems appropriate to remember him this way.  If you would like to send a memorial in his name to the LeRoy Village Green, 10 Munson Street, LeRoy, NY 14482, this will go towards extending the gardens that we started in his wife's memory.
     A Service for David will be announced in the Spring of 2021.
     Your memories and condolences may be shared with David's family at www.falconefuneralhome.com.
     Mr. Graham and his family are being cared for by the Falcone Family Funeral & Cremation Service Inc. in LeRoy.  585-768-2400