December 29, 2020 - 9:41am
William R. Klinkbeil
posted by
LaVern Falcone
.
LeRoy ~ William R. Klinkbeil, age 92, of West Main Street, was reunited with his loving wife, Rachel, on Christmas Day (Dec. 25, 2020) while at Rochester General Hospital.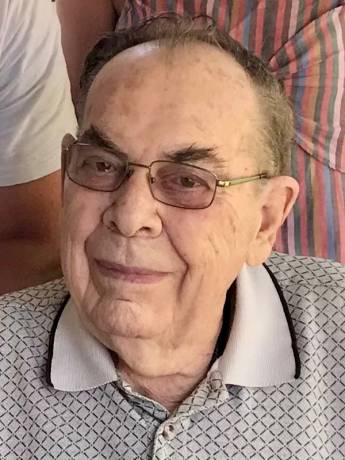 He was born November 16, 1928 in LeRoy, a son of the late Michael and Mary Kunzer Klinkbeil.
     William will be remembered as a very kind, compassionate and loving man, who was devoted to his family, his faith and his community.  He was proud to be a graduate of St. Peter's School in LeRoy and was also proud of his service with the U.S. Air Force.  He was a founding member of the Donald Woodward Memorial Golf League and a member of the Knights of Columbus.  He and Rachel were also long time members of St. Peter's Church, where they were greeters.  He and Rachel also worked together delivering Meals on Wheels.
       He is survived by his sons, Kevin (Barbara) Klinkbeil of Brighton and Kristopher (Catherine) Klinkbeil of Charlotte; grandchildren, Kristopher Klinkbeil Jr., (Fiancé Stephanie Roland), Sara Klinkbeil, Jennette Drmacich (Istvan Hajdu) and Jessika (Daniel) Drmacich-Flach; great-grandchildren, Sophie Hajdu, William Hajdu and Oona Drmacich-Flach; sisters-in-laws, Ursula Spillane,  Helen Klinkbeil and Annie Klinkbeil, nieces Shannon Spillane (Thomas Welsh)  and Shawn (Joseph) Siconolfi, special cousins Vicki (David) Clark along with many dear friends.
      In addition to his loving wife of 63 years, Rachel Drayo Klinkbeil, he was predeceased by his siblings, Clarence Klinkbeil, Julius (Jean) Klinkbeil, Jane (William) Page, Charles (Margaret) Klinkbeil, Edward Klinkbeil, Victor (Nancy) Klinkbeil, Thomas Klinkbeil, Michael (Shirley) Klinkbeil, and nephews, Mickey Spillane and David Klinkbeil
     His Rite of Christian Burial will be celebrated privately at Our Lady of Mercy Parish, St. Peter's Church. The mass will be live streamed at 11:00 A.M. on Monday, January 4, 2021 through the parish website: www.ourladyofmercyleroy.org.  He will be laid to rest with Rachel in St. Francis Cemetery.
     Contributions in memory of William are suggested to the Parkinson's Foundation of Greater Rochester, 1000 Elmwood Ave., Rochester, N.Y. 14620
     Your memories and condolences may be shared with Mr. Klinkbeil's family at www.falconefuneralhome.com.