January 6, 2021 - 2:31pm
John J. Gravante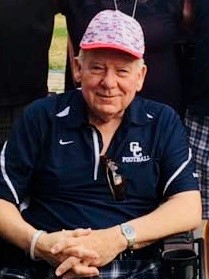 John J. Gravante, 86, of Batavia, passed away on January 5, 2021 at VA Medical Center in Buffalo. He was born June 20, 1934 to the late John J. (Marion Gentile) Gravanda. He is preceded in death by his siblings, Katerine Zaccarella, Mary Eckelberger, Ida Spiotta, Philamena Gravanda, Barbara Adams, Nicholas, Fred, Tony and Jim Gravanda, along with several nieces and nephews.
Mr. Gravante was a United States Army Veteran and served in Korea. He retired from the City of Batavia Police Department in 1979. Mr. Gravante was a huge Buffalo Bills and New York Yankees fan, an avid bowler over the years and a past Batavia Masters Champion.  
He was a long time Section V girls softball umpire and enjoyed watching the growth of the girls softball program at Lions Park in Batavia. John was very passionate about Batavia Little League Baseball, he served as an officer and volunteered many hours over the years umpiring and attending games. He truly enjoyed watching baseball of all levels.
He was a loving and caring father, grandfather, brother, uncle, great-grandfather and friend. John loved his outings to the Town and Country for coffee with the boys. He was a fun loving man who liked to tell a joke and laugh, but he was always there to help or talk if you needed him.
Mr. Gravante is survived by his children, Peter (Christine) Gravante, Patricia Gravante, Robert (Katie) Gravante all of Rochester; grandchildren, John Gravante, Peter Gravante Jr, Nikki Gravante, Matthew and Christopher Thornley, Josh Gravante, Jennifer Cook, Kaitlin Carey, Nicholas Gravante, Julia Gravante, Samantha Gravante, 9 great-grandchildren; sisters Connie Diantonio, Irene Lilis both of Batavia; along with several nieces, nephews and many friends.
A private Mass of Christian Burial will be held for the family. He will be laid to rest in St. Joseph's Mausoleum, Batavia.
Memorials may be made to the Batavia Little League www.batavialittleleague.com.  For more information please call (585) 343-8260 or to send a message of condolence, please visit www.gilmartinfuneralhome.com. Arrangements completed by Gilmartin Funeral Home & Cremation Company, Inc. 329-333 West Main Street Batavia, NY 14020.