January 11, 2021 - 9:20am
Wilson Clayton Covert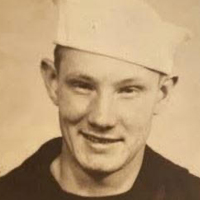 Wilson Covert – Born in Buffalo, NY on October 26, 1921, Wilson passed away on January 7, 2021 at the NYS Veterans Home in Batavia, NY.  He is survived by his loving wife of 47 years, Joyce Brown Toal Covert and his beloved children and step-children:  Michael (Denyse) Covert of Punta Gorda, FL; Christine (Robert) Ralston of Springville, UT; James Covert of Williamsburg, VA; Linda Toal and Carolyn (Gary) Dawson of Batavia, NY; Kathleen (Randy) Alexander of Corfu, NY; Cynthia (Anthony) Lewandowski of Amherst, NY; Mark Covert of Riga, NY; Kevin (Pamela) Covert of Oakfield, NY; daughter-in-law and step daughter-in law Christie Covert of Laredo, TX;  Michelle Toal of Trenton, FL;  sister Joan "Pat" Moody of Kenmore, NY; 24 grandchildren and step grandchildren, and 30 great-grandchildren and step great-grandchildren.  Wilson is predeceased by his wife of 24 years, Dorothy Orendorf Covert, sons and step son John Covert, Andrew Covert and James A. Toal, daughters-in-law Deborah Covert and Lisa Covert; step grandson James W. Toal;  and brothers Eugene Covert and Harry Covert. He was the son of the late Harry and Elvera Wilson Covert.
Wilson was a proud WWII Navy Veteran and served in the Pacific Ocean Theatre on the USS Electra.  His strong sense of duty to country continued through the service of four sons, two sons-in-law, grandson, granddaughter-in-law, step granddaughter and step great-grandson in the Army, Navy, Air Force, Marines and National  Guard. Prior to his retirement, Wilson worked in IUOE Local 17 as a Crane Operator at Pine Hill Stone and Gravel in Lancaster for 25 years.
Wilson enjoyed hunting and fishing with his family and friends, gardening and spending time outdoors. He was a master at whittling and his signature hand carved wooden ducks will be treasured throughout the generations of his family.
A memorial service with military honors will be held at the convenience of his family.  Memorials may be made to Western New York Heroes (wnyheroes.org).