January 18, 2021 - 8:31am
Patricia A. Flaherty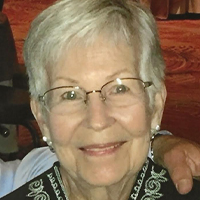 Patricia A. Flaherty, Le Roy - Born May 23, 1931 in Batavia, NY to the late Vincent Ridd and Gertrude Maher. She was a loving mother and a great person who spread joy to everyone she met. She loved the outdoors and spent many hours in the Adirondacks. She was raised on the family farm and spent her whole life on Vallance Road, Leroy, NY. Patricia worked at Steel Chest, Jello and GE and was a member of St. Peter's Church, LeRoy.
She is predeceased by her first husband, Roy Smith and second husband, Francis Flaherty, brother, Eugene Ridd, sister, Rosemary Liese, great-grandchild, Ashton Flaherty and very special friend Kathy Taylor.
Patricia is survived by her daughter, Cheryl Aleo, sons, Kevin (Roxanne) Flaherty, Bryan (Kim) Flaherty and companion of 30 years, Robert Schoenheit, grandchildren, Nichole Santos, Melinda Conway, Valerie Flaherty Shand, Russell Flaherty, Ryan Flaherty, Joe Gallucci, Anthony Gallucci, Jay Hodge, Jesse Hodge, 8 great-grandchildren, nieces and nephews.
A special thanks to all the neighbors and friends who helped out during her illness and the Village Green Staff who took care of her. A service and celebration of her life will be held at a later date. Memorials may be made to the LeRoy Village Green Sunshine Fund, 10 Munson Street, LeRoy, NY 14482. To share a memory or leave a condolence please visit leroyfuneralhome.com.