February 4, 2021 - 1:17pm
Muriel E. "Mickie" Haymon
posted by
LaVern Falcone
.
Muriel "Mickie" Eleanor Haymon, of Bergen, NY, returned to her heavenly home on Thursday, January 28th, while in the care of those at Strong Memorial Hospital.  Mickie was born on June 8, 1933 in Mont Clair, New Jersey.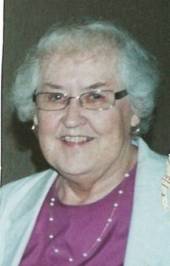 Mickie was predeceased by her parents, William and Muriel Lightholder and her sister and brother-in-law, Barbara and Robert Thomas.
     She is survived by her loving husband of 67 years, Henry "Hank" Haymon and their four sons, Dave (Bonnie) Haymon of Brockport, Mike (Cindy) Haymon of Churchville, Dan (Susan) Haymon of Virginia Beach and Mark (Cyndi) Haymon of Bergen.  She is also survived by her sister and brother-in-law, Edie and Ron MacGregor.  Mickie deeply loved her 8 grandchildren and her 19 great-grandchildren.
     Earlier in her life, Mickie worked for the Byron-Bergen High School in the cafeteria.  She was a dedicated member of the Stone Church Congregation for most of her life, where she served as Deacon, Elder and Head of the Prayer Chain until her passing.  She was awarded Peacemaker of the Year in 1994.  Mickie was a kind and loving person and those closest to her will miss her caring and joyful personality.
     A Celebration of Mickie's Life will held in the Summer of 2021 at a time and date to be announced.
     In lieu of flowers, contributions may be made to Stone Church in memory of Mickie.
     Your memories and condolences may be shared with Mickie's family at www.falconefuneralhome.com.
     Mickie and her family are being cared for by the Falcone Family Funeral & Cremation Service Inc. in LeRoy.  585-768-2400