February 17, 2021 - 11:50am
Ruth Joan Knorr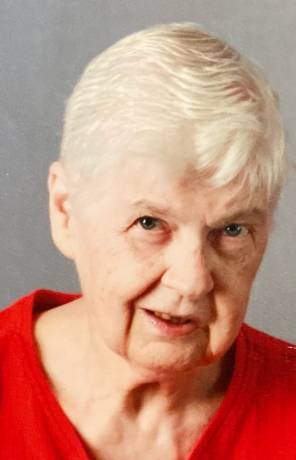 Batavia - Ruth Joan Knorr, 83, passed peacefully onto Heaven on Monday February 15, 2021 at Premier Genesee in Batavia with the love of her sister by her side. She was born on October 8, 1937 in Philadelphia, PA., the daughter of the late Raymond H. and Mary M. Knorr of Batavia. She is also predeceased by her brother; William R. Knorr of Silver Spring, MD.
Ruth had no children of her own however she did not lack for her love of children.  She spent her life as a caregiver / nanny to many very special kids. Ruth also volunteered in the church nursery and for the nursery of a local MOPS group.  Ruth had a very special gift for interacting with children.
One hundred years from now,
            It won't matter what car I drove,
What kind of house I lived in,
            How much I had in my bank account,
Nor what my clothes looked like.
            But, the world may be a little better,
Because I was important in the life of a child.
Ruth's passion was her church and church family. She belonged to the Batavia First United Methodist Church and its UMW group. In 1955 she was the very proud recipient of an honorary pin from the Batavia UMW. The pin was given in acknowledgement of her volunteer work for the church. Ruth not only worked in the nursery, but assisted in serving church dinners and was an usher for Sunday services. She also helped with the church food pantry. Ruth eagerly volunteered an any capacity she as able. Ruth enjoyed jigsaw puzzles, word searches and reading. She loved game time; Scrabble and Uno being two of her favorites. She also loved the Buffalo Bills and going on outings with her family. She enjoyed vacations in Wildwood, NJ and said she loved these times because "the family was all together".
Surviving is her brother; Raymond S. Knorr (Carol) of Pensacola, FL., sister Joyce L. Knorr of Batavia; a nephew Raymond J. Knorr (Parrish) of Birmingham, AL; a niece Cathy Knorr Webb (Trevor) of Pensacola, FL. Ruth was also the great aunt to three; Josie & Raymond Knorr and Max Webb.
Due to COVID, arrangements will be determined at a later date. Interment will be in Grandview Cemetery.
In lieu of flowers, memorials may be made to The First United Methodist Church 8221 Lewiston Rd. Batavia, NY 14020 or a charity of the donor's choice. To leave messages of condolence please visit www.gilmartinfuneralhome.com.  Arrangements completed by Gilmartin Funeral Home & Cremation Company, Inc. 329-333 West Main Street, Batavia, New York 14020.