February 22, 2021 - 3:04pm
Roland R. "Cappy" Cappiello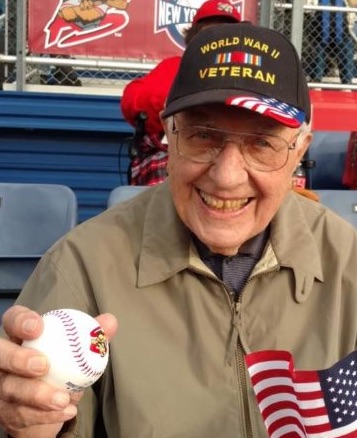 Batavia - Roland R. "Cappy" Cappiello, 97 of Batavia passed away on Saturday, (February 20, 2021) at Wyoming County Skilled Nursing Facility in Warsaw.
Mr. Cappiello was born November 14, 1923 in Brooklyn, a son of the late Ralph M. and Antoinette (Tepedino) Cappiello. 
Cappy lived for many years on a street he himself named: Evergreen Drive in Batavia. He was a member of Resurrection Parish and served his country honorably in WWII with the Army Air Corps as a radio operator in B24 Bombers. Both prior to the war and after, Roland worked for Doehler-Jarvis and worked his way up to Quality Control Manager before retiring. Following his retirement, he and his wife, Irene enjoyed snowbirding in California and Texas near their children, which allowed ample time to golf.  
He is the husband of Irene S. (Potwora) Cappiello. The two were married on September 14, 1946 and spent over 74 years together. 
Surviving along with his wife are his children, Anne L. (Darrel) Crotzer of Batavia, Susan M. (Joseph) Copp of La Jolla, Cali., James R. (Bobbi) Cappiello of Willis, Texas, William M. Cappiello of Batavia, and Michelle M. (Tom) Clattenburg of Batavia; grandchildren, Kells Copp, Kelley (Paul) Caffo, Jamie (Andrew) Maguire, Devon (Gabe) Moraes, and Tara Clattenburg; great-grandchildren, Levy and Stella Moraes; a brother, Dr. Lawrence (Marian) Cappiello of Lockport; a sister, Lois (late Michael) Feichtenbiner of Grand Rapids, Mich. Also survived by nieces and nephews.
Roland is preceded in death by a sister, Juliet who passed away in 1986. 
Family and friends are invited to call on Friday, from 4:00 to 6:00 pm at Bohm-Calarco-Smith Funeral Home, 308 East Main Street in Batavia.  Roland 's Mass of Christian Burial will be held at 10:00 am on Saturday, (February 27, 2021) from St. Joseph's Church, 303 East Main Street in Batavia.  Entombment with military honors will be in St. Joseph's Mausoleum in Batavia.  
In lieu of flowers, memorials may be made to the Wounded Warrior Project, P.O. Box 758516, Topeka, Kansas 66675-8516 or to Mt. Soledad National Veterans Memorial, 9145 Cheasapeake Drive, San Diego, CA 92123.
Please leave a condolence, share a story, or light a candle at www.bataviafuneralhomes.com.