February 24, 2021 - 9:09pm
Robert G. Knipe
posted by
Ronald Konieczny
.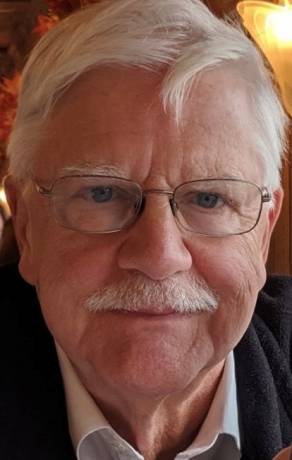 Bob Knipe died peacefully at home in Batavia, NY on Saturday, February 20th. In the weeks before his passing, Bob received messages of love and support from hundreds of colleagues and friends, and he expressed gratitude at being surrounded by the love of family members, friends and community.
Bob was a person with uncommon intelligence, humor, zest for life, spirit of adventure and commitment to service. He found love with Linda (Zimmerman-Feig) Knipe of Medina and they married on the shores of Lake Ontario in 2007, where in recent years he enjoyed spending summers at their lake cottage. He was also a dear father, grandfather, uncle and friend, and he took great joy in watching his and Linda's combined family grow and flourish, especially their grandchildren, who will miss their bright, generous and funny "GrandBob" very much.
Robert George Knipe was born to Winifred (Morgan) Knipe and Roger Knipe in Cornwall, Ontario, Canada in June 1947. He lived in Ontario until the age of six, when the family moved to Elba and then Oakfield, NY. In 1957, the family moved to the Pacific Northwest and Bob graduated from Everett High School in 1965, Everett Community College in 1967 and Western Washington University (WWU) in 1969 with degrees in English literature and education. His knowledge of literature, politics, art, and music gained during this time made him practically unbeatable at trivia games for many years.
It was in Washington State in the 60's when Bob's love of outdoor adventure began. He learned sailing at the Everett Yacht Club and climbed a number of Cascade volcanoes as a young man. Later, when living along the Rogue River in Grants Pass, Oregon, whitewater rafting became a serious hobby and family activity. Bob was always up for co-leading a Boy Scout outing for his boys' troop; trips included climbs, overnight canoe camping, winter camping and backpacking treks.
Bob taught English for four years at Sequim High School on the Olympic Peninsula, where he met and married fellow English teacher Judy Johnson.
Bob pursued his Master's Degree at Indiana University, and got his first higher education job as head of Media Services for Lewis & Clark State College in Lewiston, Idaho in 1975, which set him on his path in community college administration for the next four decades. Bob spent nine years in Media Services at Rogue Community College, and 23 years at Genesee Community College, where he retired as Dean of Learning Technologies in 2013. Among other things, he was an expert in online learning and instructional design. He received a Lifetime Achievement Award in 2014 from the National Instructional Technology Council for his innovative work in distance and online education. He was proud to have spent his career in community colleges, which he saw as a making a critical contribution to educational and economic opportunity and local community and economic development.
Bob had an irreverent sense of humor. He was a connoisseur of good-natured pranks, cringe-worthy puns, and oxymorons; cracking a joke in any setting was part of what made life fun.
Bob was a musician who played several instruments and encouraged musical pursuits in others. Music brought meaning to his life. He said, "Without music, life is kind of a cruel joke. I believe that there is music to the atmosphere, the sciences, the flow of electricity, the beat of a heart. Music is fundamental to everything." The French horn was his favorite instrument, which he played for nearly 30 years with the Genesee Symphony Orchestra and Batavia Concert Band. He felt that with its large degree of expressiveness and range of possible sounds, the horn's natural range fit his voice.
Throughout his life, Bob was a very active community volunteer. Indeed, he saw helping others as a way of life. It was an essential part of his character and upbringing: "I can't not do something; I have to be involved, I have to give back" he said.
And he did. Batavia organizations that Bob served include Genesee Symphony Orchestra, Batavia Concert Band, GoArt!, Batavia Rotary Club, First Presbyterian Church, Richmond Memorial Library, Genesee Valley Wind Ensemble, and the County Office for the Aging, for which he co-hosted a weekly radio program on WBTA. While he often found himself in positions of leadership, he more often took on roles requiring behind the scenes work. Upon retirement, Bob became a volunteer driver for the Veteran's Administration and had regular shifts driving disabled veterans to their medical appointments. This past December, he and Linda began volunteering with the County Health Department doing data entry for the COVID-19 Rapid Testing Clinic.
Bob was a Batavia Rotarian for 30 years and Youth Exchange Chair (and host for several international students) for 13 years. He was involved in musical theatre throughout his adult life and as a Rotarian, whether on stage, backstage, or in the orchestra pit. He often played the quirky character, never the leading man. He completed his one year term as Rotary President (the 'Zoom President') in July 2020. During his presidential year, he helped install bike racks and kiosks on the Ellicott Trail in Batavia.
Bob was proud to have given his two sons and many youth the gift of interest in travel and the growth of intellectual curiosity that comes from traveling. There were many trips to Europe to visit his sister Mary and friends in London who hosted him as a college exchange student in 1968. Bob greatly admired people who are intellectually curious. He felt that people who can ask a question "why" will often get answers that lead to valuable perspective and tremendous advantages in life.
Bob is survived by a large and loving family: his wife Linda Knipe; sons Andy Knipe (Marguerite Jimenez) of Washington, DC and Missoula, Montana and Tom Knipe (Mary Grover) of Ithaca, NY; Linda's sons John (Elizabeth) Feig of Redwood City, California, Alex (Licia) Feig of Medina, NY, and Jack Feig of Niagara-on-the-Lake, Ontario; grandchildren Alice, Alder, Eleanor, Cecilia, and Samuel Knipe, and Lydia, Everett, and Axel Feig; former wife Judy Johnson of Bend, Oregon; brother-in-law Georges Haour of Geneva, Switzerland; niece Anne Haour and family of Norwich, England; nephew Patrick Haour and family of Paris, France; and many Knipe and Reynolds cousins and their families. He was preceded in death by his father Roger Knipe (d. 1962), mother Winifred Knipe (d. 2011), and sister Mary Haour-Knipe (d. 2013).
A celebration of Bob's life will be held at a future date to be announced. In lieu of flowers, gifts in Bob's memory may be made to any of the following organizations: Genesee Symphony Orchestra, Batavia Concert Band, Rotary Club of Batavia, First Presbyterian Church of Batavia, Genesee Valley Wind Ensemble, Genesee-Orleans Regional Arts Council (GoArt!), and Crossroads House.
Expressions of sympathy may be shared with the family at www.mcandrewfuneralhomes.net.
ARRANGEMENTS WERE ENTRUSTED TO THE J. LEONARD McANDREW FUNERAL HOME, LLC, 2 BOGUE AVE., BATAVIA, NY 14020. RONALD KONIECZNY II, DIRECTOR.