February 28, 2021 - 12:39pm
Marjorie Morgan Leathersich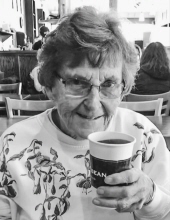 Marjorie (Marge) Welkom, Morgan, Leathersich, age 87 passed away on February 25, 2021 surrounded by her adoring family. She was taken swiftly by an aggressive cancer.

Marge was the youngest of six siblings. She graduated with Honors in 1951 from the Ralpho Township High School in Elysburg, PA. She was voted by her senior classmates as most athletic. In 1952, Marge moved to Churchville, NY at the urging of her sister Anna. In 1953, she met JB Morgan, marrying the same year after a whirlwind courtship. They raised three energetic children, beginning their life in Caledonia, NY, and then moving to Leicester, NY, in 1963. JB passed away suddenly in April 1986 leaving Marge a widow for seventeen years. After a chance meeting, a brief time dating, she married Jim Leathersich in November 2003. They shared their elder years together, especially enjoying the winter months in Arizona.

Marge worked full-time until the age of 80 in agricultural endeavors. She was an exceptional farmer operating all kinds of large machinery, usually with a dog on her lap and a cup of coffee in her hand. She had a natural green thumb and could make anything grow.

Marge was extremely versatile! Her resume of skills included: accurate weather prediction, canning, cooking, baking, sewing, knitting and crocheting, exterior and interior painting, wallpapering, climbing ladders, building maintenance, furniture refinishing, scrubbing and cleaning, flower gardening, shoveling everything and anything, plowing, planting, harvesting, and pouring concrete. She was a master at crossword and jigsaw puzzles.

Marge was predeceased by her beloved first husband Joseph Broughton (JB) Morgan, Leicester; her hard-working parents Michael and Anna Welkom; four remarkable brothers: John, Michael, Albert & Leonard Welkom, Catawissa, PA; her treasured only sister Anna Welkom Bridges, Winter Park, FL. In addition, she is survived by: her devoted husband James (Jim) Leathersich, Caledonia; her cherished children with JB: Linda (Roger) Hamilton, Leicester; Peggy (Peter) Capotosto, Fairport; and Michael (Marianne) Morgan, Leicester; her precious grandchildren: Leslie (Danny) Hamilton Stein, Jane (Tim) Cimino, Annie (Pat) Capella, Emma (Brenden) Mance, Joe (Sarah) Morgan, Jennifer (Bill) Flint, Matthew (Jody) Morgan and 16 darling great-grandchildren. Marge also leaves behind many close nieces, nephews and cousins in PA; faithful friends, John and Barbara Hauslauer, Audrey Welkom, along with others too numerous to name; and a long list of dear dogs and assorted animals.

Calling hours for family and friends will take place on Friday, March 12, 2021, between 2-7pm at the Eaton Watson Funeral Home, Perry, NY. Strict COVID regulations will be in place! A funeral for Marge will follow on Saturday, March 13, 2021, at 1:00pm at Triple H Farms, 4524 Genesee Street, Route 63, Geneseo, NY. The funeral will be held outside regardless of weather. Park in the Methodist Church lot.

Our family wishes to extend special thanks to: Anna (Hauslauer) Macauley, Bobby Aberth, Dean and Lisa Estes, and the Teresa House staff and volunteers. You can pay tribute to Marge by having patience when you meet farmers moving agricultural equipment on the roads.

Donations in her memory can be made to: Teresa House, 21 Highland Road, Geneseo, NY 14454 or Susie Q Dog Resq, c/o Sue Mahoney, PO Box 236, Conesus, NY 14435.   For more information or to sign the online guest registry please visit www.eatonwatsonfuneralhome.com.  Arrangements completed by Eaton-Watson Funeral Home, LLC. 98 N. Main St. Perry, N.Y. 14530.