March 1, 2021 - 10:38am
Sharon Lena Schrauger Davis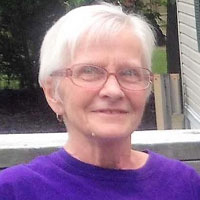 Sharon Lena Schrauger Davis, 74 of Loxley, AL, passed from this life into her Heavenly home on Saturday, February 27, 2021.
Sharon was born on January 25, 1947 in Binghamton, New York to Betty and Louis Schrauger.  She was raised and lived in and around the Batavia/Elba, NY area before moving to Texas. Sharon retired from the Kroger Corporation in 2007 and was a member of First Baptist Church, Vidor, TX. 
She is survived by her son and daughter-in-law, Ron & Kandra Davis, of Vidor, TX and daughter, Tammy Crosby of Loxley, AL; sister Marilyn (Don) Smith of Elba, NY, brothers Butchie Schrauger of Elba, NY, Gary Schrauger of Jersey City, NJ, and Todd (Sandy) Schrauger of Jacksonville, FL. She was very proud to be known as "Granny" to Wesley & Alex Crosby of Loxley, AL, Kristen Davis of Vidor, TX, Veronica Paulsen of Loxley, AL and Joshua Swearingen of Sour Lake, TX.  She also had numerous nieces and nephews as well as many dear friends.  She was preceded in death by her parents, and her brother, James Schrauger.
Sharon had a kind heart and rarely met a stranger.  She enjoyed a good cup of coffee, chewing on peppermints and a big scoop of Blue Bell ice cream.  She loved her Lord and Savior, Jesus Christ and spent a lot of time reading her well-worn Bible.  She was a prayer warrior for many.  Her absence will be great in our lives, but we rejoice today that she is Home.
A celebration of her life will be held in Loxley, AL on Sunday, March 7.