March 2, 2021 - 12:59pm
Patricia Ann Messina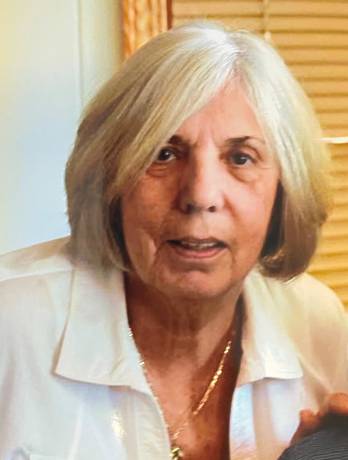 Patricia Ann Messina of Batavia passed away Sunday, February 28, 2021, after a brief illness.  Patty was born on January 20, 1944, the daughter of the late Francis and Eleanor Tatarka. 
She graduated from Notre Dame High School and soon after began working at THE DAILY NEWS where she continued to work for many years.  In later life, Patty was also employed at the NYS Bureau of Unemployment.
Her life was one of devotion to her family that soon included her husband Charles Messina, Jr., and his family.  The couple had two sons David Charles (Susan) and Jeffrey Francis (Elizabeth).  Together they formed an indelible bond of familial love with the birth of Patty's precious Grandchildren, Ava, Giada, Joseph (Joey), Charles (Charlie) and Giulianna. Special highlights were the "alone" visits last summer at 'Ma Pats' with Ava.  Then last fall the insidious disease began to surface ever so slightly.  Something wasn't right.  And so it began and too quickly took over." 
Patty was the one behind the camera; at the sink; in the kitchen; quietly preparing and always helping; assisting any way and anywhere she saw a need.  Another very famous person summed it all up: "If she saw a need, she fixed it," in her own, quiet, unobtrusive way never calling attention to herself. Always letting YOU lead.  Patty was known for her artwork, treasures from cheerful drawings to tasteful note cards, and projects of all kinds.  At every family occasion, it was Patty who held the camera.  She made the most delicious Macaroni with Fresh Peas; from scratch Cinnamon Rolls and cookies and her homemade Manicotti shells were like eating air! Charles and Pat were truly a couple.  They did everything together. You couldn't have a conversation with one that they didn't turn to the other one for a comment.   They attended any and all sporting events for their sons in all kinds of weather and traveling no matter the distance.  They we devoted beyond measure to family first and to their Alma Mater, Notre Dame.  Patty's Manicotti were fundraiser favorites for many years. 
As families aged, she helped to take care of her father, her father-in-law, Charles Messina, Sr., and kept vigil for her mother-in-law, Beatrice.  Charles and Pat welcomed her own mother into the family home on Redfield Parkway until her passing.  It was Patty who quietly stood by a coffin and carried cups of water to family members.  And when one of her sister-in-law's mother was dying, it was Patty who was there to help. Her family and an outpouring of that same strength attended to Patty with love and care from the legions of friends who were at one time or another, recipients of Charles and Pat's outreach!   People did what they could to show how much she was loved and selfishly would have kept her longer. 
"In the end you can't change anything. But in the end your presence is everything."
She is survived by her husband of 54 years, Charles Messina, along with their sons and families. Surviving Patty are her brother Robert (Joan) Tatarka and their children Melissa, Robert and Christopher; sister-in-law Jean (the late Vincent Messina) and children, Denise (Charles) Hull, Theresa (Steven) DiMarco, and Dean Vincent (Patricia); brother-in-law Paul (Sharon) Messina and their daughters, Shelley (Bob) Bailey and Rebecca Messina (Derk) Hendriksen.  Aunt Katherine Ognibene also survives her along with great nieces and nephews, cousins, etc.  She was a daughter-in-law of the late Charles (Beatrice) Messina.  Her oldest brother, Thomas Tatarka and brother-in-law Vincent Dean Messina predeceased Patty.   
There will be no prior calling hours. A 12:00PM Mass of Christian Burial will be celebrated on Friday, March 5, 2021 at Resurrection Parish (St. Joseph Site) 303 East Main St. Batavia, NY 14020. Patty will be laid to rest in St. Joseph's Mausoleum. The church will be restricted to 50% of its normal capacity. Face coverings and social distancing are mandatory. Thank you for your understanding and cooperation.
Memorials may be made to Notre Dame High School, 73 Union Street, Batavia, NY 14020.  To leave a message of condolence please visit www.gilmartinfuneralhome.com or for more information call (585) 343-8260. Arrangements completed by Gilmartin Funeral Home & Cremation Company, Inc. 329-333 West Main Street Batavia, New York 14020.