March 11, 2021 - 8:46am
Jessie Y. Button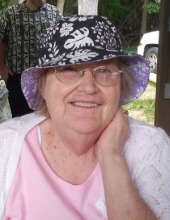 Jessie Y. Button, age 82 of Perry, NY passed away on Tuesday March 9, 2021 from injuries sustained in an automobile accident.  She was born on July 2, 1938 in Batavia, NY, daughter of the late David and Mildred (Mason) Young-Hillabush.
Along with her parent she is preceded in death by her husband: Roy who passed away in 1999, daughter: Deborah Booth who passed away in 2015 and son: Michael who passed away in 2020, sisters: Dorthy Bower, Sally Nelson, Charlotte Somerfield, Ruth Crowley, brothers: Robert Young, Donal Young, Carl Young, Jack Hillabush, Donald Hillabush, brother-in-laws: Ray Shutt and Jerry Struck.
Jessie was a graduate of Batavia High School. Jessie was a homemaker, and worked for Perry Market Place in Perry in the bakery and as a cashier. She was an active member of Hope Chapel in Perry. She enjoyed crocheting, reading, playing scratch off tickets and listening to John Denver music. She loved the holidays keeping her Christmas tree up all year long and decorating it according to the season or holiday. She always looked forward to visits with family and friends.
Jessie is survived by her children: Bonnie (Stephen) Willey of Leicester, Laurie Button of Geneseo, Tammy Stewart of Geneseo and Jeffrey Button of Wyoming, 3 sisters: Jeanne Shutt of Zephyrhills, Fl., Betty (Bill) Harmon of Belfast, Carol Struck of Buffalo, 4 brothers: David (Debbie) Hillabush of Zephyrhills, Fl., Murray (Marie) Young of Buffalo, Paul (Ann) Hillabush of St. Johnsonville, NY and George (Anita) Hillabush of Alexandria Bay, NY, caregiver and friend: Ivy Alderman of Perry, 12 grandchildren, 13 great-grandchildren and a great-great grandson, along with many nieces and nephews, great nieces and nephews and great-great nieces and nephews.
Family and friends may call from 11am-1pm on Saturday March 20th at Eaton-Watson Funeral Home, LLC. 98 N. Main St. in Perry,  where Funeral Services will follow at 1:00PM. (Jessie loved wearing hats in honor of her spirit please wear a hat to her service). Jessie will be laid to rest in Glenwood Cemetery in Perry.
Memorial contributions may be made to the Huntington Disease Foundation of America 505 8th Ave. Suite 902 New York, NY 10018 or to Hope Chapel 7 Church St. Perry, NY 14530. For more information or to sign the online guest registry please visit www.eatonwatsonfuneralhome.com.  Arrangements completed by Eaton-Watson Funeral Home, LLC. 98 N. Main St. Perry, N.Y. 14530.