March 11, 2021 - 9:38am
Arlene J. Peck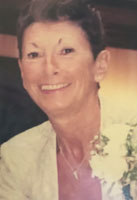 Arlene J. Peck, Age 81 of Batavia, died peacefully March 3, 2021 at her home.  Born in Batavia, NY on May 23, 1939, Arlene was a graduate of Oakfield High School and attended Brockport State College on a Field Hockey Scholarship.  Arlene was a substitute physical education teacher in the Attica Catholic School System, but was best known for waitressing at Sunny's and Alex's Place, both in Batavia.
She is survived by her loving children Rolene Peck of Naples, FL, Jolene (John) Schmidt of Vero Beach, FL, Randy (Yvonne) Peck of Batavia, NY along with three granddaughters, Joanne and Laura Schmidt and Taylor Peck.  She also was a great grandmother to Payton and Aubree.   Arlene is also survived by her brother Karl Dilcher of Oakfield, NY and a special cousin, Judy Nichols of Wyoming, NY.
Lastly, Arlene was predeceased by her husband and best friend, Roy T. Peck who sadly passed in January of 2009.  Arlene and Roy were admired for their love and devotion of fifty years.  While her family sadly mourns her passing, they find some comfort knowing that they are together again and she is at peace.   
Arrangements were made by Gilmartin Funeral Home in Batavia, NY.  There will be a Memorial Mass held for Arlene sometime this summer when her children are reunited to celebrate her life.