April 6, 2021 - 12:01pm
Brenda C. Walsh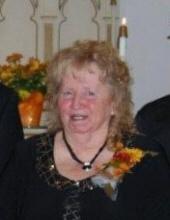 Brenda C. Walsh, 75 of Varysburg, passed away on Saturday, March 6, 2021 at Wyoming County Skilled Nursing Facility in Warsaw. Brenda was born in Buffalo, August 18, 1945, daughter of the late Clifford and Viola Glor. She is preceded in death by children Cindy Fugle and Robert Walsh Jr.  
Brenda enjoyed several hobbies and activities, including ceramics, woodworking, and crafts. Her late daughter Cindy and her attended many basket raffles and estate sales where Brenda would collect and repurpose Religious Relics. Always a hard worker, Brenda was employed in a variety of fields. She retired from Motorola and then continued working over the years, always helping others. After her most recent employment in the fabric and crafts department at Warsaw Walmart, Brenda then kept busy rehoming religious memorabilia on eBay.
It is with very heavy hearts that we say goodbye to Brenda; beloved wife, mother, grandmother, great-grandmother and friend. We know she is in Heaven with Cindy and Bobby now.
Brenda is survived by her husband of 57 years, Robert J. Walsh, children Robin Walsh and Patrick E. (Jocelyn J. Berg) Walsh, son-in-law Mark Fugle, her loving grandchildren and great-grandchildren, as well as many dear friends and loved ones. 
A 10:00 AM Mass of Christian Burial will be held on Saturday, April 10, 2021 at Sts. Joachim & Anne Parish, 2311 Attica Rd (Route 98), Varysburg, NY 14167. She will be laid to rest in St. Joseph's Cemetery, Varysburg.
In lieu of flowers, memorials may be made to the church or to Varysburg Volunteer Fire Department, PO Box 638, Varysburg, NY 14167. For more information please call (585) 591-1212 or to leave a message of condolence visit www.marleyfuneralhome.com. Arrangements completed by Marley Funeral Home, LLC, 135 Main Street, Attica, New York 14011.