April 19, 2021 - 3:19pm
Loren F. Merrill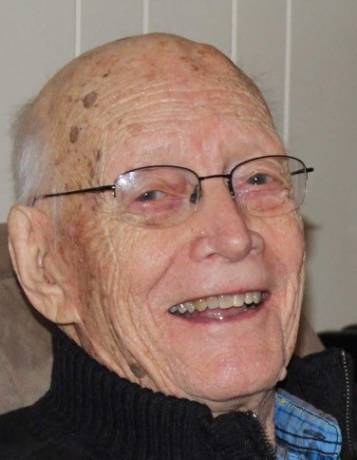 Loren F. Merrill of Bethany Center died on Thursday, April 15, 2021 leaving behind his 100-year-old body to enter into still sweeter communion with his Lord and Savior Jesus Christ. When asked about his age, he would frequently say "I'd like to live to 100, but if I don't, all the better," telling us in our grief to rejoice for him because he will be in heaven with his savior whom he loved and served so faithfully. He was a gentle and kind man, a man of integrity, who lived his life according to scripture: he put God first, his family second, and the needs of others before his own.  Although Loren was a great example for not only his descendants but all who knew him to emulate, he gave all the credit for anything good in his life to his Lord and Savior, Jesus Christ.
Loren was born August 10, 1921 in Oakfield and graduated from Alexander High School in 1940. He attended the Burgard Vocational School but because of his skill and natural aptitude for resolving mechanical problems, was encouraged to leave school and work at Bell Aircraft in Buffalo and Niagara Falls. He built and repaired airplanes for 5 years during WWII. He was a mechanic at Climax in Batavia for 23 years, where he designed and built the first self-propelled bean harvester using hydraulics, oil, and a small motor. He also built the "Genesee," one of the largest cars available in the US at the time. His lifetime interest in airplanes and automobiles was evidenced by all the model planes he built and his kindhearted auto repair and restore service to so many in the community. His 14-year career at the NY State School for the Blind in Batavia earned him the respect and admiration of students and staff alike. He was honored by the Kiwanis for his work in the Key Club, teaching marketable skills as well as life lessons.
Loren married Avis Embt on March 4, 1948 and designed and built their house on the Bethany Center Road in 1954-55 where together they raised their 5 surviving children: Glenn & Linda (Merkle) Merrill, Joy Hattendorf, Ann & Greg Miller all of Bethany Center, Ellen & David Bittner of Canandaigua, and Jim & Bethany (Wright) Merrill of Folsom, CA.  Also surviving are his grandchildren, Aaron & Rosanne (Seafuse) Merrill of Rouses Point, Emily (Merrill) & Tim Craft of Gates, Lori Hattendorf and Peggy (Miller) & Greg Johnson of Bethany Center, Stephen & Terry (Jessop) Miller of Dansville, Terenti Bittner of Canandaigua, Max Bittner of Rochester, Amy (Attridge) Bittner of Henrietta, Tahlia (Merrill) & Ronald Kirk, and Trevor & Diana (Reilly) Merrill of CA, and step-grandchildren Mark Bittner and Ruth (Bittner) & Jeff Butler of Illinois. Also surviving are 15 great-grandchildren and 8 step-great grandchildren, many nieces, nephews, 'adopted children' who are honored to call him 'Dad,' and Diggen, his constant feline companion. He is preceded in death by his loving wife of 69 years, Avis (2017), parents Earl and Edna (Myers) Merrill, brother Robert Merrill and son-in-law Rev. Lance Hattendorf.
Loren was an 80+-year member of the Bethany Center Baptist Church where he faithfully and humbly served his God in many capacities. He will be remembered for greeting everyone with a friendly smile and firm handshake, but mostly for his concern that they join him in heaven one day by accepting Christ and making Him Lord of their lives. For over 70 years he was caretaker of the Maple Lawn Cemetery in Bethany Center as well as being president for many years.
Loren's family invites friends and relatives to a funeral service of thanksgiving to God at the Bethany Center Baptist Church on Saturday, April 24 at 12 o'clock noon. The funeral service will be live-streamed and recorded on facebook.com/BCBC4Christ.  Visitation will be held at the church also on April 24 from 10 am to noon and again from 1 pm to 3 pm. Facial coverings and social distancing are expected. A celebration will be held in the summer in "The Woods" to honor this incredible man and the selfless gifts he gave to us all. The family gratefully declines flowers and suggests instead that memorials may be made to the Maple Lawn Cemetery of Bethany Center or the Bethany Center Baptist Church.
Arrangements were entrusted to the H.E. Turner & Co. Funeral Home in Batavia. Please leave a condolence, share a story, or light a candle at www.bataviafuneralhomes.com.