April 20, 2021 - 12:31pm
Lynne Philipps (a.k.a. Lynne Harris)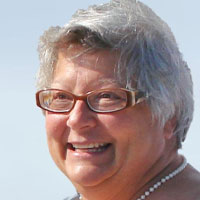 Lynne Philipps (a.k.a. Lynne Harris) passed away on April 2, 2021, in Ft. Myers, FL. She was born in 1952 in Batavia, NY, the oldest daughter of Norman and Rosemary Philipps. Lynne lived in Albion, NY, and then moved to Cape Coral, FL. A graduate of Albion High School, she continued her education at Monroe Community College (AAS in dental hygiene) and SUNY Brockport (BS Ed. in health education, MA in public administration). 
Her career included positions with the Onondaga Health Department, the Orleans Correctional Facility, Planned Parenthood, and Orleans Mental Health, the latter two as director and deputy director. Lynne was also a lifetime member of Girls Scouts of America, serving as the executive director of the Thousand Islands Girl Scout Council. 
Lynne served on many boards, committees and community service groups during her career, including the high school Music Boosters; Rotary, where she served as secretary and president-elect; and the League of Women's Voters, as president. Her "legacy project," as she called it, was her dedicated work on the planning and development board for the building of the Hoag Library. She also enjoyed working with the community as a dental hygienist before moving with her family to Florida. 
During her time in Cape Coral, Lynne was a proud member of the Island Coast Gators, then Mariner Triton families, working as an educational paraprofessional with high school students with special needs. She always brought a smile to their faces and loving patience to their day. Her favorite thing to do with her students was to share her love of cooking, teaching prep skills and creating meals and desserts. 
Lynne's biggest joy, however, was her family, especially her daughter, Jen, and two grandchildren. They were the light of her life, as she proved daily. She spent her free time watching her grandchildren perform in theatre productions, reading, floating in the pool, watching cooking shows, and researching her family's history with her cousin, Pam. 
Lynne is survived by her daughter, Jen (Shawn) Baker, her grandchildren, Ramonna and Dashiell Baker, her brother, Norman (Betsy) Philipps, her sister, Jodi (Anne Fargnoli) Philipps, her closest cousin and friend, Pamela Gaeta, and many other loving aunts, cousins and friends. 
A memorial service will be held in Albion at a date to be determined. In lieu of flowers, contributions may be made in Lynne's memory to the Hoag Library at 134 S. Main St., Albion, NY, 14411.