April 26, 2021 - 10:58am
Angela R. Carli
posted by
LaVern Falcone
.
LeRoy ~ Angela R. Carli, age 46, of Genesee Street, passed away at home unexpectedly on Saturday, April 17, 2021.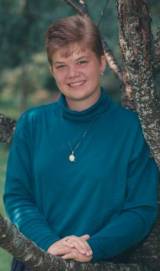 She was born June 29, 1974 in Batavia, a daughter of the late Ronald and Betty Cone Carli.
     Angela was a graduate of the Rochester School for the Deaf, Genesee Community College and SUNY Brockport.  She was an avid New York Yankees fan, with Derek Jeter being her all time favorite player.  Her passion for baseball translated to the field, as she was an outstanding shortstop in softball, winning accolades while playing for the School for the Deaf.
     She is survived by her siblings, Todd (Jamie) Carli, Bob (Trisha) Riggi, John (Mary) Riggi and JoAnne Riggi; sister-in-law, Teri Riggi; nieces and nephews, Ashley, Dylan and Kasey Carli, Matt, Emma and Lindsey Riggi, Kelsey and Travis Riggi, Samantha Engelhardt and Ryan Riggi, Maddison Churchill, Aaron, Dominic and Hannah Riggi; great-nieces and nephew, Chloe Riggi, Delilah Maskell, Hunter and Eddy Engelhardt; uncle, Jerel (Elaine) Carli; aunts, Deb Finbar, Darryl (Dan) Pfendler and Pat Carli; her beloved service dogs, Daisy and Sadie, along with many cousins and friends.
     In addition to her parents, she was predeceased by a brother, David Riggi.
     A memorial service for Angela will be held at a later date to be announced.  In lieu of flowers, contributions in memory of Angela can be made to the Genesee County Animal Shelter, 3841 West Main St. Rd., Batavia, NY 14020.
     Your memories and condolences may be shared with Angela's family at www.falconefuneralhome.com.
     Miss Carli and her family are being cared for by the Falcone Family Funeral & Cremation Service Inc. in LeRoy.  585-768-2400