April 30, 2021 - 1:22pm
Lily Hilda Viola Samuelson
posted by
Ronald Konieczny
.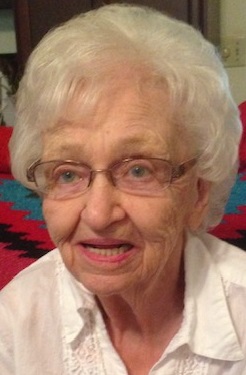 On February 13, 2020 Lily Hilda Viola (Glans) Samuelson, age 95, passed away peacefully at home in The Woodlands TX where she resided with her daughter, Karen Trowbridge. She is predeceased by her husband Marvin E. Samuelson of Batavia NY and brother, Russell Glans of Williamstown, NJ.  Surviving are her children, Kenneth (Janice) of Sandia Park NM, Karen Trowbridge of The Woodlands TX, Karl (Cheryl) of Oakfield NY and Keith (Suzie) of Silver City NM and stepson Victor (Diane) of Hilton Head SC.  Lily is also survived by 8 grandchildren, 3 step grandchildren and 16 great grandchildren.
Mrs. Samuelson was born April 19, 1924 in Harwinton, CT to Hilda (Truedson) and Walfred Glans. After the passing of Hilda she was raised in Cleveland OH by her father and step mother Jenny (Truedson).
Lily was a longtime resident of Batavia NY where she was active in the First Presbyterian Church and the Genesee Memorial Hospital Guild. For many years, on Thursdays, she would be found serving to the lunch crowd at the hospital snack shop As a fantastic cook and baker she enjoyed cooking for her family.  Being an avid reader was one of her passions and would still read several novels a week well into her 90's.
A memorial service will be held Monday (May 10th), 11:00am at Northgate Free Methodist Church, 8160 Bank Street Rd, Batavia, NY. She will be laid to rest in Grandview Cemetery.
Memorial contributions in her name may be made to Volunteers for Animals, P.O. Box 1621, Batavia, NY 14021. Expressions of condolence may be shared with the family at: www.mcandrewfuneralhomes.net.
ARRANGEMENTS WERE ENTRUSTED TO THE J. LEONARD McANDREW FUNREAL HOME, LLC, 2 BOGUE AVE., BATAVIA, NY 14020. RONALD KONIECZNY II, DIRECTOR.