May 10, 2021 - 9:01am
Dorothy M. Bish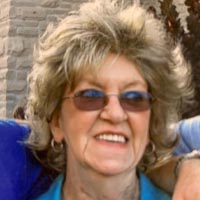 Dorothy M. Bish (nee Kula) known to all as "Cookie", 79, of Pembroke, entered into rest on Sunday, May 2, 2021 in the presence of her family.
Cookie was born November 19, 1941, in Buffalo and was a native of Black Rock. She loved Unity Island (formerly Squaw Island), The Niagara River, Niagara Falls and any source of water in general. She was an avid news reader and weather buff. Cookie enjoyed frequenting different diners and was extremely fond of her Native American friends, their customs and culture. She enjoyed reminiscing and loved all holiday card giving. If there was a holiday, she had a card for it and you were sure to receive one!
Cookie was one of five children of the late Paul and Florence (Fisher) Kula. She was preceded in death by her brothers Ronald and Paul, Jr., sister Joyce Kula and her cherished grandson James N. Grodem.
She is survived by her loving husband of 60 years, Charles Bish, son Ronald (Kelly) Bish, daughter Robin (Peter) Grodem, sister Paulette Hastie, brother and sister-in-law Donald and Mary "Meme" Bish, and grandchildren, Samantha Grodem and Alex and Adam Bish.
No prior visitation per her wishes. Interment at Evergreen Hill Cemetery, Corfu, NY on May 12th at Noon. Relatives and friends are invited to attend a memorial service and luncheon at Solid Rock Baptist Church, 5571 Crittenden Road, Akron, NY on Wednesday, May 12, 2021 at 1:30 p.m.
Arrangements were made by C. B. Beach & Son Mortuary, Inc., 4 East Main Street, Corfu, NY