May 11, 2021 - 1:47pm
Mary Elizabeth Gebel Perry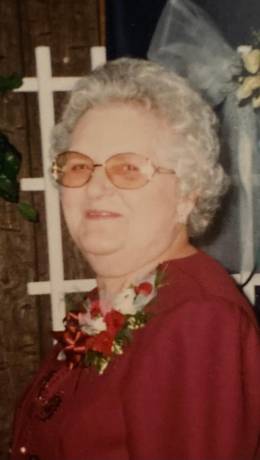 Mary Elizabeth Gebel Perry, On her 75th Mother's Day, 9 May 2021, Mary left the material world and joined her husband, Nicholas Perry, son Chester and granddaughter Barbara in Heaven. Catherine Perl Gebel and Leo Gebel welcomed their blue-eyed daughter to the world on September 25, 1925. As the eldest of 6 children ( Mary, Evelyn, Teresa, John, Ann, Clarine), Mary could often be seen in the fields of the Gebel dairy farm leading a team of horses. She always preferred farm work over house work. The grit and perseverance that she demonstrated as a child would remain with her for her entire life.
She married Nicholas Perry on 7 October 1944 and the two of them purchased their dairy farm on Bartz Road in Sheldon and would eventually have 15 children, 37 grandchildren and 48 great grandchildren. Mary has always displayed photos of her offspring in her home and loved to show visitors her pride and joy. John (Cheryl), Catherine, Nicholas (Donna), Leon (Becky), Elizabeth, Rita, Chester, Vincent (Monica), David (Kathy), Michael (Carol), Joan Namenek (James), Bernard, Nelson, Joseph (Chris) and Monica Zielenski (Kevin). She was fondly called Aunt by many nieces and nephews.
In January 1947, their house burned down. They escaped with their 2 oldest children and lost everything else. After that, Mary had little interest in material things. She had embroidered 15 pairs of pillowcases prior to marriage and found that she couldn't continue to embroidery. However, she did love to crochet and made hundreds of afghans and hats for family members and charity. She also loved playing cards and all family events centered around the card playing table. She was a shrewd card player all the way to the end.
More than anything, Mary was a servant of God and believed in the power of prayer. Every meal began with grace. A mass of Christian Burial will be on 5 June 2021 at 11 am at St John Neumann Parish, St. Cecilia Site, 991 Centerline Rd, Sheldon, NY 14145. There will be no prior calling hours.
Flowers are thoughtfully declined. Memorials can be made to The Charlotte House, P.O. Box 123, North Java, NY 14113 or the Sheldon Fire Company, 996 Centerline Road, Strykersville, NY 14145.For more information please call (585) 591-1212 or to leave a message of condolence visit www.marleyfuneralhome.com. Arrangements completed by Marley Funeral Home, LLC. 135 Main Street, Attica, New York 14011.