May 14, 2021 - 3:25pm
Mark R. Zetterberg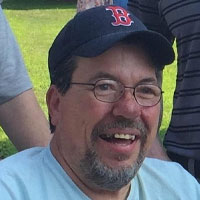 Mark R. Zetterberg, 61, of Batavia, passed away Tuesday, May 11, 2021 at Monroe Community Hospital.
Mark was born August 24, 1959, in Batavia, son of the late Roger C. and Patricia Sliker Zetterberg.
Mark was a graduate of Pembroke Central High School Class of 1978. He was a dedicated member of the East Pembroke Fire Department, Fire Police and former Commissioner of the East Pembroke Fire District; and member of the Sportsmen's Club.
Mark enjoyed woodworking, fishing, playing cards and especially going to Bingo with his Mom.
Mark is survived by many aunts, uncles, cousins and dear friends.
Family and friends may call Saturday, May 29, 2021 from 1 to 3 p.m. at the C. B. Beach & Son Mortuary, Inc., 4 East Main Street, Corfu. A prayer service will follow at 3 p.m. Mark will be laid to rest with his beloved parents in the North Pembroke Cemetery in Mogadore, where Mark grew up. He will be deeply missed by all who knew and loved him