May 18, 2021 - 2:25pm
Jane E. Costanzo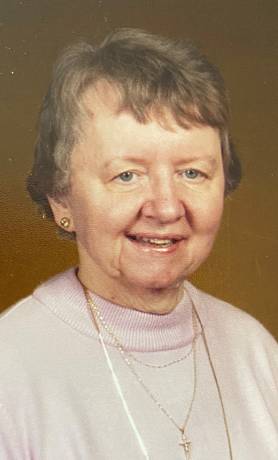 Jane E. Costanzo, 86, of Batavia passed away peacefully on Monday May 17, 2021. She was born on March 6, 1935 in Utica to the late Patrick and Annie (Clermont) Mullen. In addition to her parents, Jane is predeceased by her children; Timothy and infant daughter Nadine; brothers Patrick Jr., Thomas and Robert Mullen; sisters Shirley Kloczkowski and Theresa Moorehead.
Jane was raised in Whitesboro, NY. She attended Whitesboro Central Schools and St. Francis de Sales High School in Utica, then went on to the College of St. Rose in Albany and University of Buffalo. She married her husband Robert Costanzo on Aug. 19, 1967 in Whitesboro. Jane taught for many years in the Catholic Schools in the Syracuse and Albany Diocese and the Whitesboro Central School district. She was a substitute teacher in the Batavia City Schools and St. Anthony's for eight years and also taught full time at John Kennedy Elementary School as the Library Media Specialist for ten years. Jane was a member of both the NY State and Batavia Retired Teachers Associations. She was a part of the Notre Dame Prayer Group, Ascension Parish Right to Life Committee, the Ascension Bible Study Group and a former Eucharistic Minister and bereavement group member. She was a Professed Sister of St. Joseph of Carondolet for twelve years and was a member of the Devine Mercy Prayer Group. Jane will be remembered as a loving wife, mother and grandmother who loved her family and faith.
She is survived by her husband; Robert Costanzo of Batavia; son Scott (Shannon Broderick) Costanzo of Chili, NY; sisters Karen Kienle-Harries of FL., Cynthia (Dennis) Day of NC; grandchildren Cade and Eva Costanzo.
Visiting hours will be held 3:00-7:00PM on Monday May 24, 2021 at Gilmartin Funeral Home & Cremation Co., Inc. 329-333 W. Main St., Batavia. A 10:00AM Mass of Christian Burial will be held at Tuesday May 25th at Ascension Parish, 19 Sumner St., Batavia. She will be laid to rest in St. Joseph's Mausoluem. The funeral home and church will be restricted to 50% of their normal capacity. Face coverings and social distancing are mandatory. Thank you for your understanding and cooperation.
In lieu of flowers, memorials may be made to Crossroads House www.crossroadshouse.com or Ascension Parish 19 Sumner St. in Batavia or the donor's choice. To leave messages of condolence, please visit www.gilmartinfuneralhome.com. Arrangements completed by Gilmartin Funeral Home & Cremation Co., Inc. 329-333 W. Main St., Batavia.