May 21, 2021 - 2:37pm
Emma Jean Grant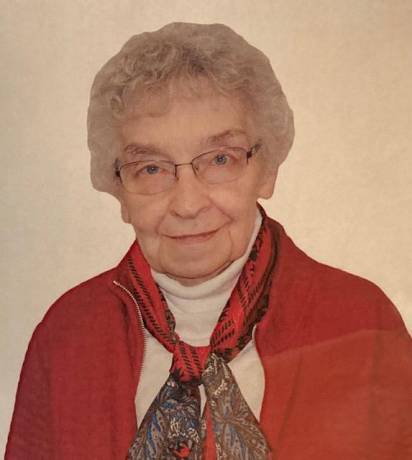 Emma Jean Grant, 86 of Alexander, passed away peacefully at home surrounded by her family on May 20, 2021. She was born in Alexander, on March 24, 1935 to the late Howard and Edna (Johnson) Grant. She is preceded in death by a sister Virginia I. Meier.
Ms. Grant was a 1952 graduate of Alexander Central School. She worked as personal secretary to Mrs. E.N. Rowell, in December of 52' she started at Genesee County Department of Social Services and was there for 20 years. Emma Jean transferred to Genesee County Health Department for 24 years and then retired in 1997 after 44 years with Genesee County.
She was a member of Alexander United Methodist Church, Batavia Business and Professional Women's Club, Alexander Happy Agers, Alexander Republican Committee, Alexander Town Board, and Alexander Village Board. She also dedicated a lot of her time to Genesee County Board of Elections, Town of Alexander Election Inspector and as a Census Taker for the Census Bureau.
She is survived by nephews, David (Cindy) Meier of Corfu, Douglas (Cathy Bishop) Meier of Alexander, John (Cherish) Meier of Alexander, niece Linda (John) Hume of Batavia, great-nephews Adam and Jacob Meier both of Alexander, great-nieces Lauren and Nicole Hume both of Batavia, brother-in-law Frank A. Meier Jr. of Alexander and cousin Jenell Carnes of Mumford.
Friends are invited to call on Friday, May 28, 2021 from 1 to 3 PM at Marley Funeral Home, LLC, 135 Main Street, Attica, NY 14011. A 3:00 PM Celebration of Life will immediately follow. She will be laid to rest in Mumford Rural Cemetery.
Face coverings and social distancing will be required at the Funeral Home, thank you for your understanding and cooperation.  
In lieu of flowers, memorials may be made to Alexander Fire Department, P.O. Box 336, Alexander, NY 14005 or to Alexander United Methodist Church, 10540 Main St, Alexander, NY 14005. For more information please call (585) 591-1212 or to leave a message of condolence visit www.marleyfuneralhome.com. Arrangements completed by Marley Funeral Home, LLC. 135 Main Street, Attica, New York 14011.