May 28, 2021 - 2:55pm
Herbert Schmieder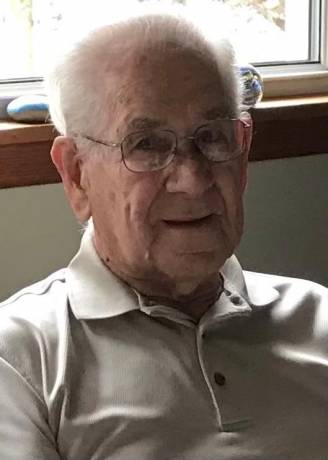 Herbert Schmieder, 92 of Alexander, went to be with the Lord on Thursday, May 27, 2021. 
Herbie was born September 7, 1928 to the late George and Rosa (Beck) Schmieder and was a lifelong resident of Alexander. As a child, he attended the Cobblestone School until the new school was built in 1939 across the street. It was there that he met and fell in love with his wife of 70 years, Anita Welker. They married in 1948 and went on to have 5 children. Upon graduation from Alexander High School, he trained as a mason. He was a highly sought-after bricklayer whose work is prolific throughout Genesee County. He was known for his precision and work ethic.
Herbie's family will always remember him for his kind heart, gentle spirit, sense of humor, love of family and friends and his famous Doodlebug rides.
Herbie was preceded in death by his parents, wife and siblings Hilda (Carlton) Lippold, Fred (Marilyn) Schmieder, Arnold (Betty) Schmieder, George Schmieder, Paul Schmieder, Erma (Fran) Andre, and Shirley Plescia.
He is survived by his children, David Schmieder, Rosalie (Ken) Lyons, Priscilla (Nicholas) Di Risio, Robert (Mary Jo Schilling) Schmieder, Doreen Tambe, 11 grandchildren and 20 great-grandchildren along with many nieces and nephews.
A 9:30 AM Mass of Christian Burial will be held on Saturday, June 12, 2021 at Sts. Joachim & Anne Parish, 50 East Ave, Attica, NY 14011. He will be laid to rest in St. Vincent's Cemetery, Attica.
In lieu of flowers, memorials may be made to Alexander Fire Department, P.O. Box 336, Alexander, NY 14005 or to the church. For more information please call (585) 591-1212 or to leave a message of condolence visit www.marleyfuneralhome.com. Arrangements completed by Marley Funeral Home, LLC. 135 Main Street, Attica, New York 14011.