June 10, 2021 - 12:56pm
Ralph F. Esten Jr.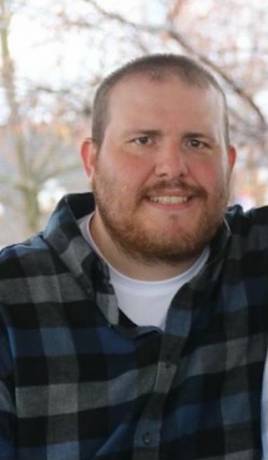 Ralph F Esten Jr., 40, of Oakfield, NY passed away June 8, 2021 after a long courageous battle of Glioblastoma Brain Cancer. He was born June 11, 1980 in Batavia to Ralph F Esten Sr. and the late Laurie B (Easterbrook) Esten. Husband to Michelle (Kastelic) Esten. Father & Father in law to Matt & Amanda Kastelic. Grandfather (Dayta) to Lukas Kastelic.
Ralphie was a long time employee at Santino's pizzeria in Oakfield, where he became a constant face for the community. Those either knew him as Ralphie or Reddog. Being a graduate of OA he continued to support the high school sports teams each and every year. As he battled with his cancer he found a special bond with these teams and also with the elementary kids. The entire OA community loved finding ways to lift his spirits on difficult days. The family and Ralphie were grateful for this community support.
Ralphie enjoyed many things in life. He had his bowling family, enjoyed fishing with his extended family, watching the Buffalo Sabres, and the New York Yankees with his grandmother. His two biggest sports passions were the Buffalo Bills and the World of Outlaw Sprint Cars. His Bills football crew always made sure he was at the games with having 18 years worth of season tickets. He would take special trips to Eldora with his father and to the Outlaw Finals in Charlotte with his older sister, along with other race tracks with friends and family. He always enjoyed family dinners, whether with his in-laws or with his youngest sister and her kids. Everyone was part of his family, you didn't have to be blood related.
He is survived by his wife Michelle and his father Ralph. Son Matt and daughter-in-law Amanda, grandson Lukas all of Oakfield. Sisters, Danielle and Melissa both of Oakfield. Nieces & nephews, Jena, Amelia, Ella, Jordan, Mihlani, Shawn, Jocelynn, Brianna, Brooklyn, Chris, Zaneta, Peyton, Aliyah, Chelsy, Charlie, Cayson, Cody, Kaleigh. Father-in-law Edward Kastelic Jr & mother-in-law Kathy Kastelic. Sister and brother-in-law Candy and Chris Manes. Brother and sister-in-law Edward Kastelic III and Carie Kastelic. Grandfather Edward Kastelic Sr. Grandmother Harriet Esten. A very special aunt, Carol Esten. Many aunts, uncles and cousins. His very special Buffalo Bills family.
He is preceded in death by his mother Laurie B (Easterbrook) Esten. Cousin/brother Jason Paul Esten. Grandfathers Roger C Esten and Clare J Easterbrook. Grandmother Mary Arlene (Scroger) Bailey, Great-Grandmother Clare Brevadiene Easterbrook. Uncle Mark A Newton.
Family and friends are invited to call on Monday June 14, 2021 from 4:00-8:00PM at Gilmartin Funeral Home and Cremation Co. Inc. 329-333 West Main St. Batavia NY 14020. Ralphie's Funeral Service will be on Tuesday, June 15th at 11:00AM at The City Church 210 E. Main St. Batavia NY 14020.
In lieu of flowers memorials may be made to Genesee Cancer Assistance 127 North St. in Batavia. For more information please call (585) 343-8260 or to sign a message of condolence please visit www.gilmartinfuneralhome.com. Arrangements completed by Gilmartin Funeral Home & Cremation Company, Inc. 329-333 West Main Street Batavia, New York 14020.