June 13, 2021 - 1:06pm
Evelyn M. (Eve) Davis-Weatherly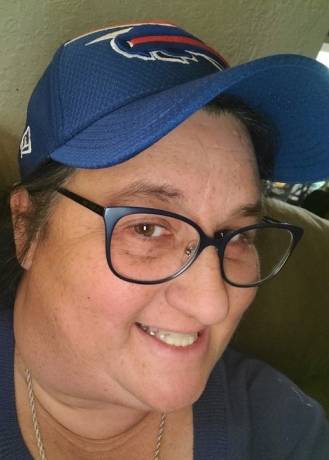 Evelyn M. (Eve) Davis-Weatherly, 50, passed away on Thursday May 27, 2021 at Providence Holy Cross Medical Center in Mission Hills, California in the loving arms of her husband. She was born on August 22, 1970 in Geislingen, Germany to William R. & Mary L. (Arena) Davis III.
Evelyn is survived by her husband: Jeffrey Weatherly; a step-granddaughter Jasmyne Serenity whom Eve has raised since she was 6 months old and a step-daughter; Ashley Weatherly. She is survived by her parents; William R. Davis III & Mary L. (Arena) Davis of North Carolina; she also has many aunts, uncles and cousins in New York., North Carolina and California. She is survived by her 8 dogs; Abbie, Bella, Lil Bit, Pup, Chuckwagon, Pudge, Charity and the new puppy Maximus Vincenzo.
Evelyn and Jeff were married in Las Vegas on November 11, 2011 at 11:00AM, to honor the date and time that her maternal grandfather, James V. Arena Sr. was born in Italy. Evelyn was deeply loved by all who knew her due to her compassion for everyone because of her charming personality. She treated everyone she met with dignity and respect. She loved to spend time with her family and friends, especially the family vacation she took with her parents and the many concerts they attended.
Evelyn was an event planner and fundraising coordinator for a group of veterans in the Vets 4 Veterans organization. She was also a member of the local Elks Club where she planned, organized, setup and cooked for the membership at times for the homeless in her area.  Her biggest accomplishment was being a member of the Desert Chapter of B.A.C.A. (Bikers Against Child Abuse). They are a worldwide organization to support abused children. This group was established to empower abused children to not feel afraid of the world they live in. Evelyn was also a tissue donor.
She is predeceased by her maternal grandparents; James V. Arena Sr. and Martha Arena; fraternal grandparents William R. Davis Jr. and Evelyn A. Davis and her Uncle; James V. Arena Jr., as well as her former dogs; Faith, Matilda, Benjamin, Wrinkles and Sgt. Buford.
There will be no prior calling hours per Evelyn's request. A 12:00PM noon Mass of Christian Burial will be held on Saturday June 19, 2021 at Resurrection Parish (St. Joseph's site) 303 East Main St. Batavia, NY 14020 followed by entombment at the Fr. Bernard Kelly Mausoleum in St. Joseph's Cemetery.
In lieu of flowers, memorials may be made celebrating Evelyn's life by donating to your favorite charity. For more information please call (585) 343-8260 or to sign a message of condolence please visit www.gilmartinfuneralhome.com. Arrangements completed by Gilmartin Funeral Home & Cremation Company, Inc. 329-333 West Main Street Batavia, New York 14020.