July 8, 2021 - 2:55pm
Robert Donald Ayers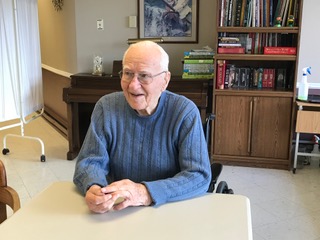 Robert Donald Ayers departed this life peacefully at age 92, on July 4, 2021 at LeRoy Village Green. He was born in Cortland, NY Sept. 7, 1928, to the late Donald and Aldine Ayers. He was married for over 63 years to the love of his life, Barbara Davall Ayers, who passed away on Sept. 12, 2012. They will be together again in Heaven
His lifetime career was in the transportation industry, working 37 years for Red Star Express. For 23 years he was the union steward for the Teamsters organization at Red Star. While working full time, he also did crop farming on his farm in Spafford NY, overlooking Skaneateles Lake, and helped his father and brother maintain the family dairy farm in Lapeer, NY. He was always a hard worker and typically had the equivalent of two full-time jobs.
He moved his family to Batavia in 1965, and soon volunteered as a Genesee County Auxiliary Police officer, where he eventually achieved the rank of captain, while he was also working at Red Star.
After his retirement, they moved to Leesburg, Fla., in 1992. While there he was treasurer at the First Presbyterian Church in Leesburg and she was an elder and chairperson of the worship committee. He also taught Defensive Driving for the AARP 55 Alive Florida safety program and eventually became the Assistant State Coordinator for Florida.
They moved back to Batavia in 2006 and joined the First Presbyterian Church where he was an elder on session and the chair of the Personnel Committee. He also was an instructor in the Genesee Valley BOCES Adult Education Program, CDL Class A Commercial driver license training.
Throughout his life he loved to help people in a number of ways. When he saw a need, he would be right there to do whatever was needed. He truly was a "jack of all trades." It seemed like he knew how to fix or build anything!! He loved his family and would drop anything to respond to a wide assortment of "fix-it" situations.
He learned how to play the organ when he was in Florida. He and Barbara would play lovely piano and organ duets together. He also enjoyed hunting, fishing and camping trips to Northern Canada (the more remote the better) with his father in law, brother in law, son, nephew, uncles, and family friends.
He was a person of great faith. He loved his church and rarely missed a Sunday service. No matter how hard he worked, he always had Sunday open for church followed by lunch at a favorite diner and then a Sunday drive along country roads.
He is survived by daughter Donna (David) Blake, of Stafford, and son Tim (late Julaine) Ayers, of Fairfield Pa.; grandson Brendan (Shauna) Blake, of Byron; sister-in-law Lucie (late Arland) Ayers, of Batavia. As well as nephews (late Doug) Helen Leastman, Jerry (Karen) Leastman; Kevin (Rachel) Leastman; and nieces Judi (Kurly) O'Brien and Joanne (late Richard) Kennedy, all of Arizona; grand-nephew David Leastman, of Florida;  many dear friends and extended family.  
Special thanks to the wonderful staff at LeRoy Village Green for their loving expressions to our dad. They went out of their way to show dad kindness and compassion and as a result were very special to him. Seeing them always brought a huge smile to his face and twinkle to his eyes. Their love for him was especially apparent during those last weeks of his life. As a result of their compassionate care, he was comfortable and at peace. COVID in 2020 made personal contact difficult but we were comforted knowing he was surrounded by the love of his LVG family.
In addition, dad loved our pastor, Roula Alkhouri (of Batavia First Presbyterian Church) and each time she visited it was apparent as he smiled and had that twinkle in his eyes. Thanks be to God for the many ways she radiated the love of God to him.
The family will receive friends and all those who loved Bob on Wednesday, July 14 from 10 a.m. to 12 p.m. at First Presbyterian Church, 300 E. Main St., Batavia, NY.
A graveside service will be held at a later date at Parker Street Cemetery in Lapeer, NY.
In lieu of flowers, memorials may be made to the Batavia First Presbyterian Church, 300 E. Main St., Batavia, NY 14020.
Perkins Funeral Home, of Dryden, NY assisted the family with funeral arrangements.