July 13, 2021 - 1:34pm
Elizabeth Joyce Kowalik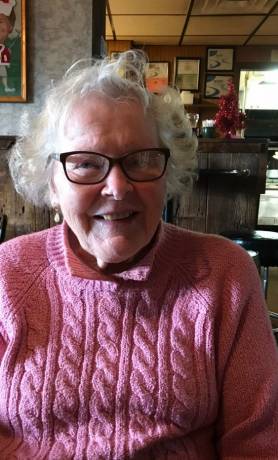 Elizabeth Joyce Kowalik died in this life on July 6, 2021 at the Gateway Home in Attica, but now lives with Jesus in his kingdom forever. She was born Elizabeth Lang on November 28, 1930, daughter of the late Joseph and Clara Lang. She was predeceased by her husband Walter K. Kowalik Sr. and siblings: Dorothy Jones (Donald), Marge Bromsted (Leo), Beatrice Richardson (Ray) and Jerome Lang (Nancy).
Her 90 years of life is carried on by her 6 children and 12 grandchildren: Walter (child, Alison Spath), Michael (wife, Kim, child, Jessica Kowalik), Mary (husband, James Hale, children: Edward Wilkosz, Timothy Wilkosz, Elizabeth St. John), James (wife, Phyllis, children Nikie Morris and Jake Kowalik), Teresa (husband, Charles W. Wood, children Madeline Patterson and Charlie K. Wood), Kenneth (wife, Cindy, children, Chelsea Kowalik Grosse, Eric and Chad Kowalik). GREAT Grandma Liz had 13 GREAT grandchildren: Ava, Maxine, Kaz, Emmaly, Jenna, Stevie, Olivia, Kate, Grayson, Claire, Thomas, Wyatt and Rowan.
She is also survived by 6 siblings: Mary Johnson (Norman), Harriett Worthington (James), Joanne Lang, Sandy Fraterrigo (Phil), Joe Lang (Pam), Al Lang (Deanna), sister-in-law, Florence Kowalik Pastecki (Eddie), and brother-in-law, Jake Boldt (Eleanor). Whether they knew her as Aunt Bet or Aunt Liz, many nieces and nephews will greatly miss her. Lizzie's church family from Mogadore Chapel are looking forward to laughing and worshipping with her again!
In earlier days, Liz was a cafeteria worker, bus driver and board member for Byron-Bergen Central School. Volunteer firefighter was another hat she wore. She worked and retired from Eastman Kodak Company as an executive secretary. She just loved being outdoors to garden, burn leaves or make the neighbors laugh with her lively, bigger than life personality. She used to jog in her work boots on the railroad tracks in South Byron when the sport of running wasn't in vogue. She always said she just loved having and taking care of "her babies", right into adulthood. Like many, it is said that she was the best mother and grandmother around, but of all these roles she would have told you that her greatest one was, student, "a disciple," right at the feet of the Master. She touched many lives with her testimony for Jesus, wisdom, humor and giving heart.
A remembrance and celebration of life service will be held at Mogadore Chapel, 8063 N. Pembroke Road, Batavia, NY 14020 on Saturday, July 17 at 11:00 am. She would want you to come, listen, laugh and eat!
She asked instead of flowers, donations be made to the amazing volunteers at Gateway Hospice Home, 91 Main St., Attica, NY 14011. To leave a message of condolence please visit www.marleyfuneralhome.com. Arrangements completed by Marley Funeral Home, LLC, 135 Main Street, Attica, New York 14011.