July 19, 2021 - 1:44pm
Harold L. Maxon
posted by
LaVern Falcone
.
Harold L. Maxon, (Sonny, Max) of Stafford, passed away on Saturday, July 17, 2021.  He was born in Buffalo, N.Y. on Dec. 31, 1935 to the late Lavern and Jean (Clark) Maxon.  He grew up in Wyoming, N.Y. with fond memories of life on his dad's farm on Lagrange Road, as well as the Maxon Farm in Bennington.  He was a great story teller and loved to reminisce with memories of the "good old days".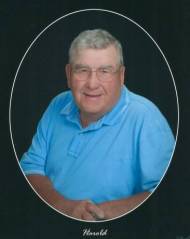 He went to trade school for refrigeration and air conditioning, but when unable to get a job in that field, he began working in construction.  He was an expert self taught heavy equipment operator and loved excavators and cranes in particular.  He worked for Keeler Construction and later, Allied Builders, where he retired from in 1999.  After retirement, he ran excavator for R.W. Taylor.  He was proud of the numerous jobs that he had been a part of including RIT's library construction, Spencerport School and parts of Strong hospital.  He would often point out places along a ride where he had dug for gas or water lines, etc. 
     From a young age, he had a knack for repairing things that stayed with him to the end.  He was happiest when he had grease on his hands from repairing a lawnmower or other small engine.  He spent several years volunteering at UMMC as "The Menu Man".  In 2005, he built the house that he lived in, in his later years, including doing all of the electrical and plumbing himself.
     He is survived by his longtime significant other, Elaine Lemley and her family; his sons, Dennis (Connie) Maxon of Albion, Steven (Yvonne) Maxon of Crawford, GA, Scott (Mona) Maxon of Winterville, GA, Russell (Cheryl) Maxon of Batavia, Todd Maxon of Aliso Viejo, CA, and Carl (Tammy) Maxon of Albion; his daughters, Denise (David) Jaczinski of Basom and Jan (Derek) Standish of Albion; grandchildren, Brad, Tyler, Amber, Amanda, Mary, Alex, Alan, Henry, Ryder, West, Tiffany, Bruce and Logan; great-grandchildren, Rowan, Chase, Zoe, Sophia, Hudson, Adelyn, Hailey, Cole, Hunter, Cailyn, Maddie and Isabell; nephews, Christopher and Michael, both of FL and his brother, Robert of Zephyrhills, FL, as well as many cousins.
     In addition to his parents, he was predeceased by his sister, Shirley and the mother of his children, Wanda (Hale) Maxon.
     Family and friends may call on Wednesday, July 21 from 2 ~ 4 and 7 ~ 9 PM at the Falcone Family Funeral & Cremation Service Inc., 8700 Lake St. Rd. (Rt. 19), LeRoy, where services will be held on Thursday, July 22 at 10:00 AM.  Interment will follow in Stafford Rural Cemetery.
     Your memories and condolences may be shared with Harold's family at www.falconefuneralhome.com.