July 25, 2021 - 4:22pm
Dorothy L. Bater
posted by
LaVern Falcone
.
LeRoy ~ Dorothy L. Bater, age 94, of East Main Road, Lime Rock, passed away Saturday morning (July 24, 2021) at the LeRoy Village Green Nursing and Rehabilitation Center.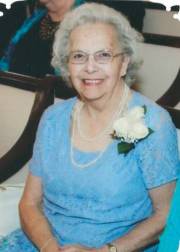 She was born May 7, 1927 in LeRoy, a daughter of the late John and Catherine Stella Stefani.
     Dorothy will be remembered as a loving wife, mother, grandmother and dear friend to many.  She was a devoted care provider to her husband, John, prior to his passing in 2007.  Dorothy was also the family historian, working on the genealogy of both her parents' families, as well as the Bater family.
     She is survived by her children, Cynthia (James) Glitch, John D. Bater Jr., Mary Ann Bater and Richard (Laurie) Bater; 8 grandchildren; 10 great-grandchildren, along with many nieces and nephews.
     Family and friends may call on Thursday, July 29 from 4 ~ 7 PM at the Falcone Family Funeral & Cremation Service Inc., 8700 Lake Road (Rt. 19), LeRoy, where her funeral service will be held on Friday, July 30 at 11:00 AM.  Interment will follow in St. Francis Cemetery.
     In lieu of flowers, memorials are suggested to the LeRoy Fire Department Incorporated., 4 Clay Street, LeRoy, N.Y. 14482
     Your memories and condolences may be shared with Dorothy's family at www.falconefuneralhome.com.