July 26, 2021 - 10:01am
Mrs. Jean G. Hume
Batavia - Jean G. Hume, 93, of Batavia, passed away Friday, March 20, 2020, at Premier Genesee Center for Nursing and Rehabilitation.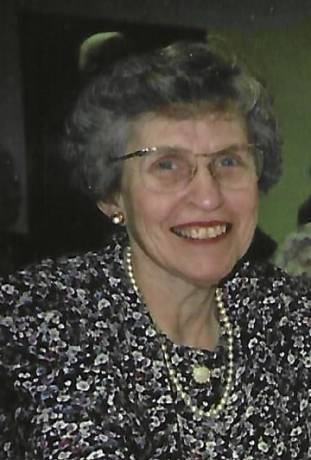 Jean was born April 9, 1926, in Albion, daughter of the late Roy Derr Gillette and the late Beulah Achilles Gillette. A native of Albion, she was a graduate from Albion High School, class of 1942. She was active in the high school productions of Gilbert and Sullivan Operettas. In addition, she was a member of the Albion United Methodist Church, where she participated in church choirs and Sunday School activities. Jean always kept in touch with her family and friends from Albion.
Jean married James H. Hume in 1951 and moved to the Hume Farm on Creek Road. They celebrated 62 wonderful years of marriage before his passing on April 1, 2013. Jean is also predeceased by her son, Joel Hume on June 30, 2019 and her sister, Carol Seagar Hunt.
 An active member of the Batavia community, she was an active member of the Batavia First United Methodist Church since 1952. Jean was a member of the McNabb Class, Ingraham Class, Women's Morning Worship Circles, served as the treasurer of the church and was responsible for the memorial fund of the church.
Jean was also an integral part of United Memorial Medical Center; the former Genesee Memorial Hospital. Jean was a member and past president of the Hospital League, volunteered in the snack shop and was later employed part-time as the hospital historian and public relations director where she worked until she was 80 years old.
Jean was known for her organizational skills which she acquired from the Rochester Business Institute. She also loved to take photographs which had to have names and dates on the back side. Her most important job was raising her five children with her husband, Jim.
Survivors include her children; Jeff (Theresa) Hume of West Palm Beach, Florida; Judd Hume of Portland, Maine, Jack (Sarah) Hume of Silver Spring, Maryland and Jill (Kevin) Bailey of Canandaigua; five grandchildren; Meghann Hume of West Palm Beach, Florida; Nicholas (Jessica) Hume of West Palm Beach, Florida; Emily Hume of Meherrin, Virginia; Shaunna (John) Bailey Stith of Ventura, California and Merritt J. Bailey of Calgary, Alberta, Canada; two great-grandchildren; Nathan Reeves and MacKenzie Jean Hume of West Palm Beach, Florida; two nephews, John (Linda) Hume of Batavia and Roger (Mary) Hume of Batavia as well as five great-great-nieces.
There are no prior visiting hours. Her memorial service will be held on Saturday, July 31, 2021 at 1 p.m. at the Batavia First United Methodist Church, 8221 Lewiston Road, Batavia. She will be laid to rest in West Bethany Cemetery. In lieu of flowers, contributions in Jean's memory may be made to First United Methodist Church of Batavia, 8221 Lewiston Road, Batavia, New York 14020 or UMMC Hospital League Foundation, 127 North Street, Batavia, New York 14020. To leave a condolence, share a story or light a candle in Jean's name, please visit www.bataviafuneralhomes.com.