July 26, 2021 - 2:47pm
Lawrence L. Drozdowski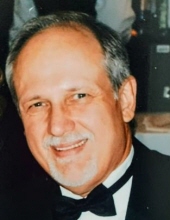 Lawrence L. Drozdowski, age 70, of Castile, NY passed away after fighting a courageous battle with pancreatic cancer at home on Saturday July 24, 2021 surrounded by family.
He was born in Buffalo, NY on June 22, 1951 a son to the late Leonard Stanley and Cecelia V. (Targaszewski) Drozdowski.
Larry was a registered nurse who worked for the former Craig Developmental Center in Sonyea, and retired from Finger Lakes DDSO in 2013, working at the Perry ICF, Lakeview IRA and Koscielniak Home in Perry for 32 years.  He enjoyed golfing, hunting, riding his motorcycle and four-wheeler, cross country skiing, kayaking, hanging out with his family at Letchworth State Park, or going on family vacations. His grandchildren were his pride and joy. Too many he was known as the doggie whisperer loving all dogs especially his dogs Lexi, Max, Chipper and his many grand puppies.
He is survived by his wife: Vicky J. (Severson) Drozdowski whom he married in October 1989, 2 daughters: Jennifer (Robert Fisher) Drozdowski of Warsaw, Cassie (Drozdowski) Hill of Castile, 2 sons: Robert (Stacey Cino) Drozdowski of Attica, Bryan (Merissa Bonadonna) Drozdowski of Silver Springs, 1 sister: Patricia (Robert) Kacalski of Cheektowaga, mother-in-law: Ada Severson of Portageville, sister-in-laws: Becky (Gordie) Strain of Dalton, Deb (Ed) Koerner of Pike, brother-in-laws: Dan (Julie) Severson of Dansville, Greg (Joanne) Severson of Orangeville,7 grandchildren: Caden, Gabriella, Gavin, Robert Jr., Alora Grace, Rowyn and Jade Taylor along with many nieces, nephews and friends.
A memorial service will be held on Saturday August 7th at 2:00 P.M. at the Castile Baptist Church 5824 Rt. 19A in Castile. Larry will be laid to rest in Elmwood Cemetery in Silver Springs.
Memorial contributions may be made to Lusgarten Foundation Pancreatic Cancer Research 415 Crossways Park Drive, Suite D, Woodbury, NY 11797 or visit lustgarten.org to donate. To leave a message of condolence please visit www.eatonwatsonfuneralhome.com. Arrangements completed by Eaton-Watson Funeral Home, LLC, 98 North Main Street, Perry, New York 14530.