July 30, 2021 - 11:58am
Geraldine Lega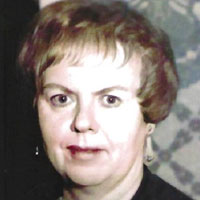 Geraldine Lega passed away on Wednesday, July 28, 2021 at the age of 96. 
Gerry was born on May 30, 1925, in Alexander, NY a daughter of the late Charles and Mary Newell Fisher. She lived her married life in Corfu. Gerry was the wife of the late Stephen Lega and devoted mother of the late Carol. She was predeceased by siblings Laverne Fisher and Genevieve Crawford.
Gerry's engaging smile greeted customers at Loblaw's in Batavia for more than three decades. Her coworker, Aggie Aquina was a lifelong friend. The family wishes to acknowledge and thank a special group of people who cared for Gerry in her later years. Richard Siebert, Annie Lawrence, Joyce Kohorst, Elizabeth Fenton and Alan Spiotta (who was like a son), lovingly saw to her every need. Gerry is survived by a number of nieces and nephews.
Friends and family may call Tuesday, August 3, 2021, from 11 am to Twelve noon at the C. B. Beach & Son Mortuary, Inc., 4 East Main Street, Corfu, NY.  Services will follow at Noon with interment to follow at North Pembroke Cemetery.
Flowers are gratefully declined. Memorials may be made to the Kidney Foundation WNY, 110 Broadway, Buffalo, NY 14203. Final arrangements are entrusted to C. B. Beach & Son Mortuary, Corfu, NY.