August 3, 2021 - 11:43am
Mary T. Hayward
posted by
LaVern Falcone
.
Le Roy, NY – Mary Trumbore Hayward, age 85, passed away peacefully on July 29, 2021 with her family by her side.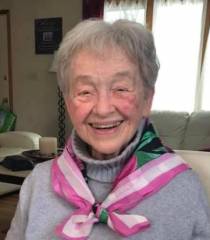 Mary was a faithful woman who loved the Lord, the church, her community, and her family. Mary's greatest joy in life was her grandchildren. She never missed a soccer game, band concert, musical, or graduation. She never missed the opportunity to be the first person to "like" or comment on one of her grandkids Facebook or Instagram posts. When not at one of her grandkids events, she could be found quilting. She had a gift for quilting, and she could always be counted on to fix any number of holes the family put into their clothes. Each family member is able to treasure their own quilt made by "Geepooh". The family celebrates that Mary, being a leap year baby, was able to have a 21st birthday celebration in 2020.
     Mary is predeceased by her husband, Charles Brace Hayward III, her parents Harry Kiel and Marien Trumbore, her sister, Pat, her son-in law, Scott Horr, and her grandson, Stephen Hayward. She is survived by her brother, Fred (Violet) and her children; Deborah (Dave) Mancuso, Barbara Horr, Charles (Amy) Hayward, Christopher (Kelley) Hayward, and James (Jill) Hayward. Mary is survived by ten grandchildren; Kathy, Christina, Becky, Ryan, Charlie, Kara, Rachel, Jenna, Connor, and Chloe; ten great-grandchildren; Taylor, Lianna, Anthony, Drew, Ali, Brady, Lottie, Haley, Aria, and Penny; one great-great-grandchild; Margot and several nieces and nephews.
     Family and friends may call on Sunday, August 8 from 4 ~ 6 PM at the Falcone Family Funeral & Cremation Service Inc, 8700 Lake Rd (Rt. 19), LeRoy.  Her Service of Remembrance will be held on Monday, August 9 at 10:00 AM at St. Mark's Episcopal Church, 1 East Main St., LeRoy.  Interment will immediately follow in Machpelah Cemetery.
     In lieu of flowers, donations may be sent to the Le Roy Village Green Activity Fund, 10 Munson St., LeRoy, NY 14482 or Oishei Children's Hospital, 818 Ellicott St, Buffalo, NY 14203.
     Your memories and condolences may be shared with Mary's family at www.falconefuneralhome.com.