August 17, 2021 - 4:21pm
Conway Thomas Magee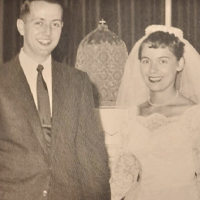 Conway Thomas Magee,  87, passed peacefully into Heaven on August 7, 2021.
He was the son of the late Andrew and Ida (Kosinski) Magee. His siblings are Andrew Edward Magee and the late Beatrice Stone. Conway is survived by his beloved wife of 64 years, Joyce (Sutton) Magee and his children, Jennifer (William) Brado, Timothy and David (Angie) Magee."Grandpa Grinch" has six grandchildren; Robert Twichell, Sara (Tom) Luby, Elyse (Isiah Hernandez) Twichell, Lily, Lindsay and Aiden Magee. Also two great-grandchildren, Thomas Conway and Lucinda Ann Luby.
Conway earned a Masters degree from Canisius College and Buffalo State. He served as an educator for the Batavia City School District for 43 years as an art teacher and guidance counselor. As his grand-daughter, Elyse says, "He was the kindest, gentlest, most generous man I have ever known. " We will miss him always. 
Condolences may be sent to: Joyce Magee 7460 Floyd Circle Mission, TX 78572. Memorials may be sent to: St Anthony's R.C. Church 916 Leo Ave. Latoya, TX 78560