August 30, 2021 - 4:45pm
Cynthia Fay Froebel Davis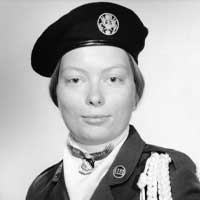 Cynthia F. Davis, 66, of Knob Noster, Missouri, formerly of Corfu, passed away Monday, August 30, 2021, at the Buffalo VA Medical Center. 
Cynthia was born on July 2, 1955, in Batavia, a daughter of the late Herbert H. Froebel and Joanne Hahn Ferguson. She was a 1973 graduate of Pembroke Central School. A veteran of the Cold War, Cynthia proudly served for over 20 years in the United States Air Force, achieving the rank of Master Sergeant  Her favored pastimes were painting, crocheting, tatting and spinning but she especially loved spending time with her grandchildren.

Cynthia is survived by her mother Joanne Ferguson, her children Dale (Dana) Davis, Noel (Katrisha) Davis and Dana (Morgan Hardman) Davis; grandchildren Erin, Gaiya, Eric, Aaron and a new grandson on the way; siblings Herbert (Cindy) Froebel, Elizabeth (Brian) Miller and Robert (Amy) Froebel. Many nieces and nephews also survive.

Family and friends may call on Wednesday, September 1, 2021, from 4 to 8 p.m. at the C. B. Beach & Son Mortuary, Inc., 4 East Main Street, Corfu, NY. Burial with full military honors will take place Thursday, September 2, 2021, at 10 a.m. at the Western New York National Cemetery, Indian Falls Road, Corfu, NY.