September 10, 2021 - 8:58am
Patrick Marone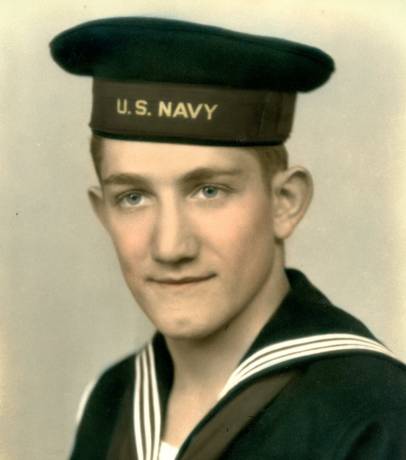 Patrick Marone passed away peacefully at Highland Hospital, Rochester NY, on September 3rd 2021.
Pat was born on Easter Sunday (April 12th) 1925 and was known as Pasquale to his family and friends. He was the youngest boy and 11th of 12 children born to Rosaria and Domenico Marrone. His parents were both born in 1884 in Vasto Marina, Chieti, Italia.
Patrick grew up in Batavia, NY as a devout Catholic. His father was a mason and railroad worker and Pat inherited a strong work ethic and austere style of life –so he was always quick to ensure that his nickels were safe and spent wisely!
Pat attended Batavia High school and was a standout athlete in football, baseball, soccer, basketball and track. The local newspapers were fond of calling him the 'diminutive fullback' and although he was only 5' 7" he often led the basketball team in scoring.  He graduated high school in 1943 and, like his older brothers, enlisted in the Navy. Based on his excellent school grades he was sent to radioman school in Sampson, NY. He left Sampson in April of '44 and deployed to the Pacific out of San Diego. He served on the USS Farenholt as part of the 12th squadron that included the USS McCalla and Woodworth. He served in the navy until April 1946, becoming a WWII veteran. He earned the Philippine Liberation Ribbon, the American Theater Medal and the Asiatic Pacific Medal 6 stars Victory Medal.
After the war Pat attended SUNY Brockport where he met his future wife Mary Cox. He graduated in January 1950 as one of 5 honors students in a class of 63 graduates, with a BS in Education. Mary and Patrick were married in 1951 and became school teachers in Batavia, NY. During that time Pat worked part time on a graduate degree, earning a MS in Education at SUNY Buffalo in 1952.  He taught in the Greece, NY school district for several years.
Pat left teaching in 1974, moved to Florida and became a club pro golfer. He was a scratch golfer for 20+ years and won several local tournaments including the 9th annual ALS Celebrity Golf Classic in 1998.
He will be greatly missed by his partner and dance mate of over 20 years, Lillian Maselli, and her children.  Pat is survived by two sons, Paul (Barb) and Chris (Eliza), and was preceded in death by his son Daniel, his daughter Mary Alice and his brothers and sisters.  He will be missed by his eight grandchildren: Kristy, Brian, and Wendy (Jared) of Rochester NY and Victoria (Marius), Daniel, Linda, Constantino, and Massimo of State College PA. In addition he leaves behind four great granddaughters:  Emily, Erin, Maizie Alice, and Finley Joy.  
Interment Private.  A celebration of life will be held in 2022.  Donations to the Leukemia & Lymphoma Society are welcome (https://givenow.lls.org). Arrangements were entrusted to the H.E. Turner & Co. Funeral Home in Batavia. Please leave a condolence, share a story, or light a candle at www.bataviafuneralhomes.com.