September 14, 2021 - 1:37pm
Deborah "Debbie" Gail Gabriel f/k/a Debbie Chamberlain Voltura Plant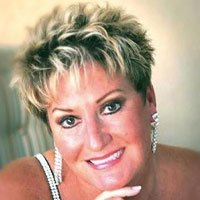 Deborah "Debbie" Gail Gabriel f/k/a Debbie Chamberlain Voltura Plant passed away unexpectedly on Sunday, September 5th at the age of 72 in Vail, AZ.

Debbie was born February 23, 1949 in Rochester, NY to Earl & Betty Chamberlain. Along with her parents she was predeceased by her Step-mother Evie Chamberlain. 

Surviving are her husband Marc Gabriel of Vail, Arizona, her brothers Chris (Rhonda) Chamberlain of California & Steve (Judy) Chamberlain of New York. She is also survived by her Step-children Debbie (Tom) Shea of Batavia, NY and Greg (Nicole) Voltura of Corfu, NY, Step-grandchildren Addison Shea, Angelo, Sara & Melissa Voltura and 2 nieces and a nephew, Scott, Meredith & Gabby as well as many close friends and fans. 

Debbie graduated from Nazareth High School in Rochester, NY and she went on to earn an Associates Degree in Hotel Management from Sullivan County Community College but singing was always her passion. She started her professional singing career at age 16. Often referred to as "Vanilla Ella," Debbie's voice was as powerful as the vivacious energy she brought into a room whether with family and friends or with her audience. Debbie worked with many distinguished musicians including Kenny G and Chuck Mangione. 

Debbie had an incredible voice and produced several jazz CD's over the years! Even toured with Louise Hay, Wayne Dyer & Deepak Chopra and played shows all around the country including Madison Square Garden. She had an infectious zest for life filled with humor and joy. Similar to her ever-changing hair color and style, she was bold, blunt and beautiful. Debbie's email address and personalized license plate perfectly described her personality - "diva girl". 

In lieu of flowers, memorials may be made to: The Miami Project and mailed to Debbie Shea at 9395 Shepard Rd. Batavia, NY 14020.